This 14-Year-Old Blind Dog Was Dumped At A Shelter Just Before Christmas
When all hope seems lost, sometimes all you need is someone to remind you that it never is.
When Blackie, a 14-year-old blind dog, was given up to the Austin Animal Center in Texas, his previous owners assumed that the shelter would simply put him down. Blackie had lived outside his entire life and had clearly never been to visit a vet. He was hanging onto life by barely a thread.
Austin Animal Center
Austin Animal Center
"Our vets thought perhaps he only had a couple of days to live and end of life euthanasia was considered," Austin Animal Center posted on their Facebook page.
Blackie had gone blind from untreated glaucoma and cataracts, and it seemed as if he would probably pass on within days of arriving at the center - but someone decided that Blackie wasn't ready to give up just yet.
Brunie Drumond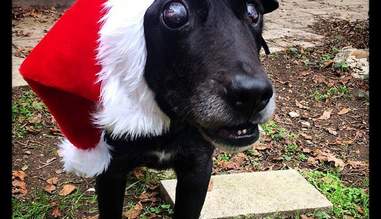 Brunie Drumond
Brunie Drumond, a volunteer with Austin Pets Alive, heard about Blackie's story and decided she wanted to help. If Blackie really did only have days left to live, then she wanted him to be able to do live them out the best place possible - a warm, loving home. And so, Blackie went home with Drumond to spend the holidays.
Austin Animal Center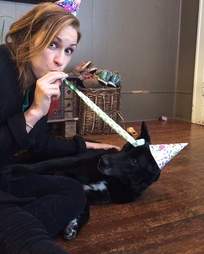 Austin Animal Center
As soon as Blackie was given a home to live in, something amazing began to happen. His whole personality started to change, and he began to show an energy he never had before. He followed sounds he picked up on even though previously he had struggled to walk, and he played with and showed love towards his foster family as if he'd never experienced anything like it before.
Brunie Drumond
Brunie Drumond
No one thought that Blackie would make it, except one volunteer who saw something in him - and changed his life forever.
"We don't know how long Blackie has to live, but we do know that he will never spend another night outdoors, cold and alone. We know he'll get only the best love and care from Brunie while he is with us and most importantly, we know when Blackie passes away, he will be surrounded by people and animals who love him and who, at the very end, showed him what it's like to be a part of a family," Austin Animal Center wrote.