Blind Dog's Family Invents A Device That Changed His Life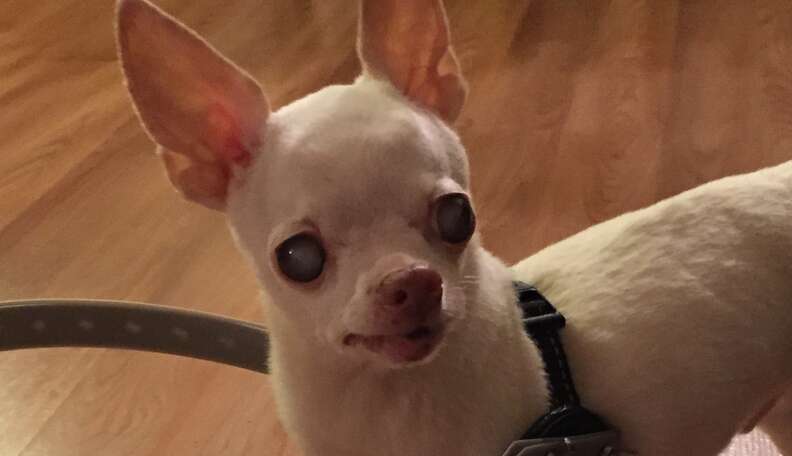 <p> Jesse Foy </p>
<p> Jesse Foy </p>
Everywhere he turned, Buddy was walking into things. Eventually he lost even more sight - and had trouble walking around at all.
Buddy and his mom, Jordan Berg, go way back - about 13 years - long before Buddy had trouble seeing.
"He started losing sight in his right eye about four or five months ago," Jesse Foy, Berg's fiancé, told The Dodo. Like many older dogs and humans with blindness, Buddy has cataracts in both eyes.
Foy said that Buddy couldn't see his surroundings, and that scared the small dog.
Then, about a month ago, Buddy's eyesight began to rapidly decline. Berg and Foy would have to carry him from room to room and outside to go to the bathroom.
Buddy was immobilized.
Then, Berg and Foy were struck with brilliance.
"I got the basic idea from another product I had seen online," Foy said.
Those products would have put too much weight on Buddy's 5-pound body, so the couple went to the hardware store and brainstormed design plans.
"A few bolts, washers, wing nuts and a roll of plastic hanger strap later," Foy said, "I ended up with the final harness."
So far, the result is a major success. "He still bumps into things," said Berg, "but the bumper hits the object first." It's enough of a warning for Buddy to avoid head-on collisions.
Now, Buddy has regained some of his lost confidence. He spends his time exploring and following his parents around their home.
He can also eat and drink without a problem.
And he can walk himself to his backyard bathroom.
Thanks to Berg and Foy's innovation, Buddy's back to his old ways, enjoying life and the company of his human companions.
"I did this project for two of the most important friends I have in the world," Foy said. "One, for a dog that deserves to live a great life for as long as we can keep him around us, and two for my best friend in the world and my fiancée, Jordan."
To a dog losing his eyesight, change can be scary. Berg and Foy took a situation that could have been devastating and turned it into something beautiful.
"Seeing how happy she was to see Buddy walking around again, tail wagging and trying to jump up into her leg, made it all worth it. I would do anything for those two," Foy said.
Are you up for the rewards and challenges of caring for a dog in need? Check out Adopt-a-Pet.com.