Three Newly Blind Cats Healed By The Love Of Two Pit Bulls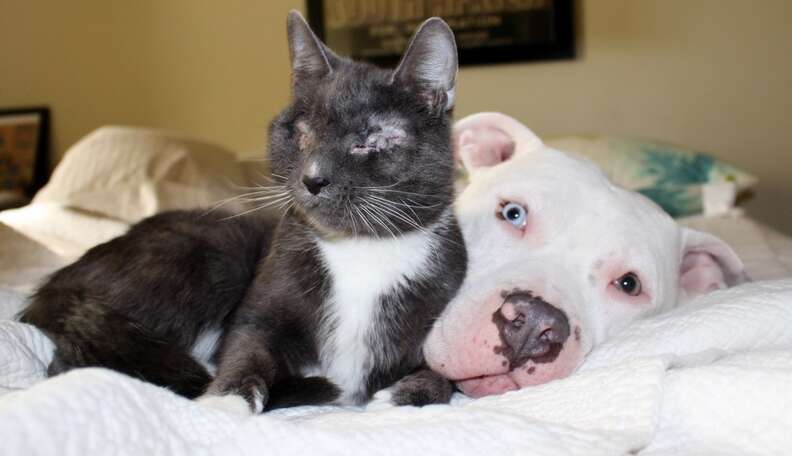 In the wake of a tragedy, it is often the most unlikely friends who are there to help you pick up the pieces.
When Helen, Bruce and Willis all arrived into the care of Faithful Friends Animal Society, a rescue group in Delaware, they were in pretty rough shape. Though Helen, 7 years old, was brought in separately from Bruce and Willis, around 10 weeks old, all three ended up needing to have their eyes removed, leaving them completely blind.
Bruce and WillisSherry Stewart
Adjusting to a life without sight is not an easy road, and volunteer Sherry Stewart stepped up to help make the transition just a little easier.
Stewart has fostered over 80 animals with Faithful Friends since 2012, and seemed to be the perfect person to care for three blind cats.
HelenSherry Stewart
"They are slowly learning how to get up and down stairs and are currently living in my loft," Stewart told The Dodo. "They like to play like any kitten, they just enjoy a smaller world."
But Stewart wasn't the only one to welcome the cats into their new foster home - she also has two rescue pit bulls who know what it means to struggle and survive.
Willis, Alfie and BruceSherry Stewart
Alfie and Frankie, 9 and 4 years old, were both rescued from neglect and cruelty, and took a while to heal in Stewart's care. Alfie even acts as a pet therapy dog, visiting children in hospitals and schools. Now, they are more than eager to bond and play with all the foster siblings who pass through their home - and have taken a special liking to the blind cats.
Bruce and AlfieSherry Stewart
"My dogs are very nurturing. They lick and clean them, take naps with them. They don't notice they are blind, just that they need little extra TLC since they are sick and healing from surgery," Stewart said.
Frankie and HelenSherry Stewart
The dogs love to care for the cats, acting as big brothers as they heal and explore the world with their new blindness.
"Bruce is the smaller of the two kittens, he is very friendly but seems to struggle just a little bit sometimes," Stewart said. "Bruce has a harder time finding things. He LOVES sitting on top of the dogs."
Bruce and Frankie Sherry Stewart
All five of these animals came from unimaginable backgrounds, and now they have found each other and can take comfort in their shared experiences.
If you would be interested in adopting Bruce and Willis (bonded pair) or Helen, you can contact Faithful Friends for more information.
If you'd like to adopt a different pet, you can check out Adopt-a-Pet.com to get started.