Blind Cat Survives Hit And Run After Lying In Road For 3 Hours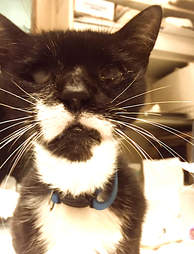 This is Sir Whiley Kitty, a 13-year-old blind cat.

| Jennifer Minnich
Jennifer Minnich, a resident of Hollywood, Florida, helped save Whiley's life. And now she's hoping to find the blind cat the loving home he needs.
"I live in Florida and am seeking a home for a senior blind cat who was struck by a car in my neighborhood last week, beat the odds and I wish he could have a happy forever after," Minnich wrote in an email to The Dodo last week. "Is there any way you could help spread the word for a home?"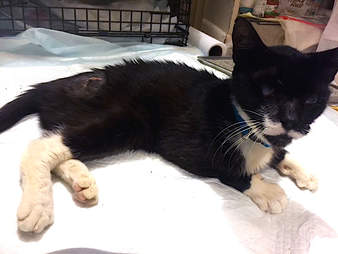 Whiley was hit by a car and left for dead.

| Jennifer Minnich
Whiley was hit by car in Minnich's neighborhood on July 4.
"Unable to move with a totally dislocated pelvis, he was left lying on the street for three long hours, going into shock," Minnich said.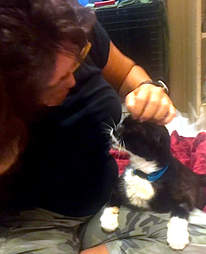 Minnich and Whiley

| Jennifer Minnich
But a neighbor put a bowl of water and food next to him, and stayed with him until help came. Finally, another neighbor spotted the scene at 11 p.m. that evening while she was walking her dog, and she called Minnich immediately.
Together, they rushed him to the emergency vet.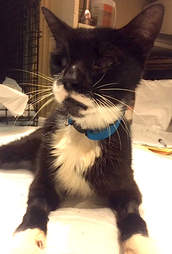 People who found Whiley rushed him to the emergency vet.

| Jennifer Minnich
But the veterinarians saw little hope for the old, blind cat. "They wanted to euthanize him because they thought he'd be paralyzed," Minnich said.
But Minnich convinced them to wait - and it's lucky they did. Seventy-two hours later, Whiley made an incredible turnaround, "amazing everyone," according to Minnich.
Whiley amazed everyone by surviving - but now he needs a forever home.

| Jennifer Minnich
Minnich is fostering Whiley as he heals, but she can't keep him. "My hope is he finds a real home to transition to, where he can settle in peacefully and permanently."
Whiley will be available for adoption in August. "Whoever meets him will fall in love," Minnich said.