Heartbroken Cat Dumped At Shelter ... Because She's Blind
Abandoned by her family when she was just a tiny kitten, Dolce and her siblings were "disposed of" in the entrance to an apartment building.
Since she was so young and a victim of neglect, she contracted an infection in her eye. Sadly, people in the neighborhood were no help - in fact, they didn't want to see the kitten's "ugly" eyes anymore. Dolce was heartlessly discarded at a local shelter, where she was certain to lose both her eyes without the proper medical care.
YouTube/He'Art Of Rescue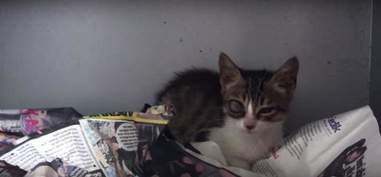 YouTube/He'Art Of Rescue
He'Art Of Rescue discovered Dolce while they were visiting the shelter, huddled in a corner on a bed of newspaper, scared and alone. "Her eyes, popping out of their sockets were fixed to an uncertain point in the dark as if she was staring at her misfortune," the rescue wrote on its Facebook page.
Facebook/He'Art Of Rescue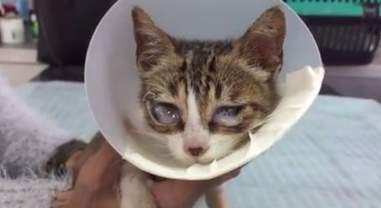 Facebook/He'Art Of Rescue
Dolce was taken to get medical care immediately, and after evaluating her, vets determined that one of Dolce's eyes had an 80 percent chance of being saved ... and the other, only 20 percent.
Surgery has been scheduled to try and save Dolce's eyes, and in the meantime she is recuperating in the care of He'Art of Rescue, finally learning what it's like to be loved.
If you would like to help with Dolce's care, you can check out the He'Art of Rescue website to learn more.
Check out the full video on Dolce's rescue below: