Blind Cat Finds A Home With Other Cats Exactly Like Her
<p><em>Susan Smith</em><span></span></p>
Blossom the cat became a little different after she lost her eyes - until she ended up in a home with others just like her.
When Blossom was found, she had a severe eye infection caused by an upper inflammatory virus. She was rescued by North Shore Animal League in Port Washington, New York, where staffers made the decision to have her eyes removed due to the infection.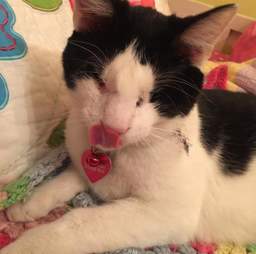 Susan Smith
After her eye removal surgery, Blossom was put into a foster home for about a month - with Howard and Beth Stern.
Radio personality Howard Stern and his wife Beth are known for fostering cats, and constantly have new cats and kittens of varying needs passing through their home. The newly blind Blossom was able to recover at the Stern house, alongside their other fosters, until she was ready to be adopted.
Susan Smith
Because Blossom is blind, she needed to find a home that would be sensitive to her needs, and when Susan Smith heard about her, she knew Blossom would be the perfect addition to her family.
Blossom was adopted into a home with a bunch of other blind cats. Since they're all blind, none of them have any idea that they're any different, and they love playing together all day long.
Susan Smith
"Our main challenge, if there really is one, is staying out of their way as they race around the house," Smith told The Dodo. "They really have the house mapped out in their heads."
Susan Smith
Having a bunch of blind siblings has given little Blossom all of the confidence she needs, and she's had absolutely no trouble adjusting to her new home.
"Blossom is a sassy diva," Smith said. "I've never seen a cat with such a bossy spirit. She is constantly making me laugh, like when she ignores me because she thinks I can't see her."
Susan Smith
Blossom and her special siblings don't let their blindness get in the way of anything they do, and they're always there to help each other out, just in case.
Susan Smith
"I really believe they have no idea they are different," Smith said. "They do everything that sighted cats do which sometimes has me scratching my head."
Susan Smith