He Saved A Cat's Life, So The Cat Returned The Favor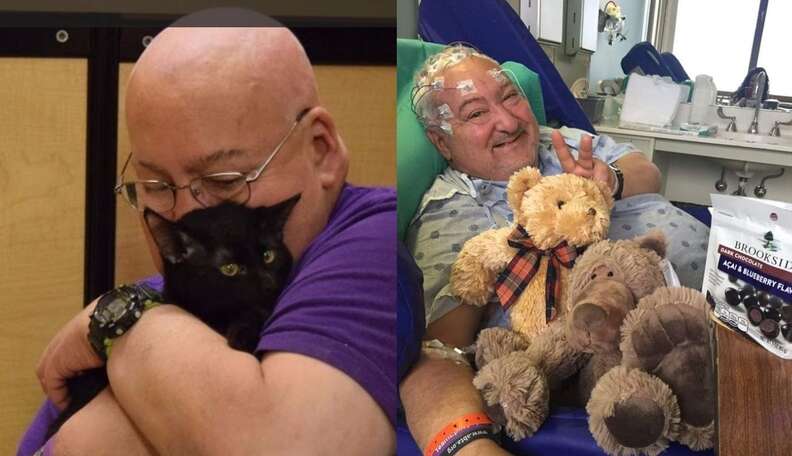 <p>Glen Schallman<span></span></p>
<p>Glen Schallman<span></span></p>
Did Glen Schallman have the faintest inkling that the cat he was taking home would save his life?
After all, he was the one saving a life when he walked into an adoption center run by the Humane Society of North Texas about a week ago.
He was looking for a very special cat.
Glen Schallman
Schallman was born with not one, but three, potentially fatal complications: brain conditions called polymicrogyria and unilateral schizencephaly, and a rare brain tumor known as hypothalamic hamartoma.
Blake the cat knew nothing about all that.
Glen Schallman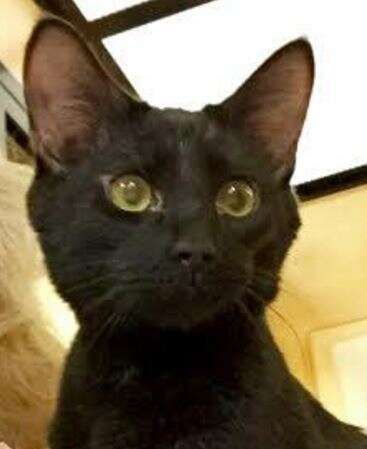 He had no idea that at 56, Schallman was defying the life expectancy for anyone with those issues.
Blake didn't know Schallman suffered at least one seizure a day. And, most perilously, those seizures could kill him while he slept.
No, Blake was just a cat who had been rescued from a neglectful home. Now, he was looking for a real home. And, at the adoption center, he couldn't have made it more obvious.
"He just stood right out," Schallman tells The Dodo. "He was the only kitten who was jumping up and down, meowing and meowing and meowing, wanting to get out."
Then Schallman got closer.
"I took him out and held him, and he kissed my forehead and purred."
Spell cast. Adoption complete.
Glen Schallman
When Blake moved in, he immediately "took over the place."
As in, sprawling everywhere, owning the space they shared, and demanding all the love in the world.
Glen Schallman
He also took the utmost care to keep the man who saved him alive. Schallman says his cat has an uncanny knack for sensing when he's going to have a seizure.
"Blake alerts me by nudging me before I go into a seizure to let me know to sit down or lay down," he says.
Glen Schallman
One night, it all seemed like it would unravel into tragedy. While he was sleeping, Schallman had a seizure.
But Blake was there for him - with a sharp, stern bite to his toe.
"I would have probably not woken up," Schallman says.
Now, it seems, they're even. Because Blake's last address, the one before he was rescued by the Humane Society of North Texas (HSNT), was a kind of hell.
"Blake came from the home of an overwhelmed caregiver," Whitney Hanson of the HSNT tells The Dodo. "The number of pets she had really surpassed her ability to care for them properly.
"She actually had to leave her home unexpectedly and she reached out to us for help."
And so began Blake's journey from a hellish home to a battery of veterinary procedures at the humane society - he had become very ill - to the everlasting love of a certain human who really needed him.
Glen Schallman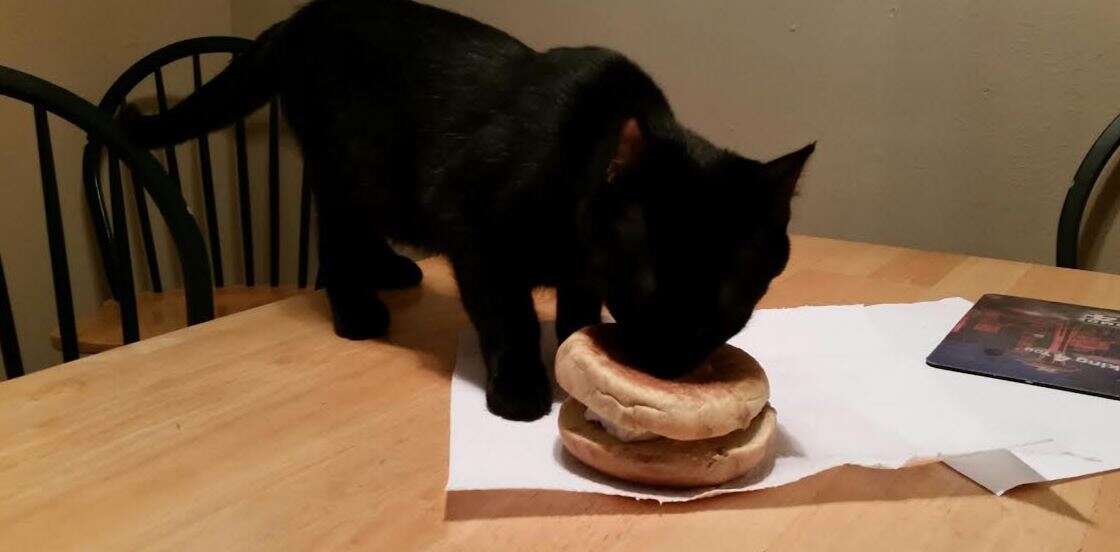 No stranger to the virtues of cat companionship, Schallman had owned three of them when he lived in Arizona. He describes them as having a kind of sixth sense. They always seemed to know when he was about to have a seizure.
Sadly, he had to leave the cats with his sister when he left the state. He would spend too many months moving around the country to bring his cats along.
When he finally settled in Fort Worth, Schallman went looking for his new best friend.
At the best place anyone can look for a best friend - his local shelter.
And that decision proved a lifesaver.
Glen Schallman
Dogs have been known to detectimminent seizures. But cats have also saved a life other than one of their own nine.
An orange shelter cat named Kitty made headlines back in 2011 after she was credited with saving a young girl - she stood on top of her, yowling and crying when she started having a seizure.
Sound familiar?
Glen Schallman
"When most people think of therapy animals, they think of service dogs," Hanson says. "However, animals of all species provide lifesaving services to their owners every day."
If you would like to support the Humane Society of North Texas and its efforts to make life better for hundreds of animals, consider making a donation. Or a withdrawal - the group has dozens of animals looking for a real home.