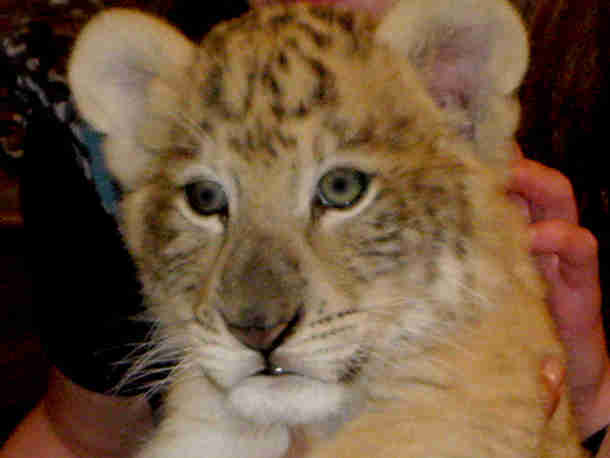 Last week, IFAW and our partner organizations increased the pressure on USDA to establish a ban on direct contact between the public and big cats.
We first petitioned the Agency to close a loophole that enables exhibitors to allow direct contact between the public and big cats between the ages of eight and twelve weeks more than two years ago.
USDA accepted public comments on the issue in 2013, but has not yet made a decision as to whether it will continue to allow unscrupulous wild animal exhibitors to mistreat big cat cubs just to make a buck.
Cub handling exhibits exploit lion and tiger cubs - which are torn from their mothers and subjected to inhumane treatment and living conditions - by charging members of the public to hold, pet, swim with, take photographs with, or otherwise engage in forced interactions with these young animals.
Cub handling business operators may present their displays as "conservation" or "rescue" efforts, misleading well-meaning members of the public (not to mention athletes and Congressional aides, among others).
These short-sighted businesses also fuel incessant breeding and leave countless big cats to live out their lives in deplorable conditions once they are too old to be profitable.
Thankfully, awareness is spreading, and law enforcement officers and other first responders, celebrities, and students have stood up against the cruel cub handling industry and private breeding.
New York's state legislature passed a direct contact ban last year, acknowledging the need to abandon the outdated and inhumane practice for the sake of both animals and people.
Now it is time for USDA to clarify its Animal Welfare Act regulations to prohibit direct contact between big cats and the public.
You helped to send a powerful message on behalf of big cats when USDA first took up this issue, and the big cats need your voice once again.
The agency could make a decision in the near future that will determine the fate of thousands of exotic animals - please join us in asking USDA to make the right choice for animal welfare, conservation and public safety.
- CB