Big Ag's Colossal Failure To Hide Farm Animal Abuses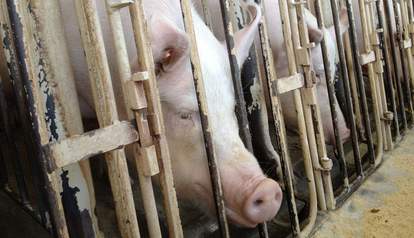 <p> (Photo: The Humane Society of the U.S.) </p>
The factory farming industry's attempt to hide inhumane treatment of farm animals with "ag-gag" bills has been nothing short of a colossal failure. In the last two years, more than 20 of these state bills – which seek to criminalize whistleblowers who expose animal abuse, poor working conditions, environmental crimes, and more - have been resoundingly defeated.
When these harmful bills are introduced, they're met with strong opposition from a variety of public interest groups, including animal protection, journalism, food safety, public health, human rights and First Amendment organizations. These bills also prompt the very footage agribusiness is working so hard to conceal – footage of farm animals being abused at agricultural facilities – to be shared on social media and in the news. It's clear that the ag-gag effort has backfired.
Thankfully, Big Ag's losing ways continue this legislative session. Already in 2015, two of the five ag-gag bills introduced have stalled. In Washington state, HB 1104 went no further than a committee hearing, where 18 people testified in opposition and only the bill sponsor spoke in favor. A Seattle paper commented that the hearing was "a beautiful thing to watch," as the ag-gag bill was "demolished by testimony from experts, attorneys, and everyday citizens who all opposed it." Colorado's ag-gag bill was also rejected at the committee-level. And an ag-gag bill in Wisconsin which hasn't even been formally introduced yet is already facing stiff resistance.
Perhaps realizing that ag-gag bills are a losing scheme, the meat, dairy and egg industries are desperately proposing other types of legislation aimed at shielding unethical business practices from the public. In six states, "Right to Farm" bills – which really should be called "Right to Harm" - have been introduced this session. These bills are a crude attempt to stop legislators from passing commonsense laws that safeguard our nation's food supply from outdated and harmful practices. No other industry (health care, insurance, education, etc.) has a wholesale exemption from regulations. The agribusiness industry should be no different. Auspiciously, it's already suffered a loss on Right to Harm; such a bill in Mississippi was rejected in committee.
In Minnesota, a "License to Pollute Rural Communities" bill was recently introduced. That legislation (Senate File 482/House File 582) seeks to prevent rural residents from protecting their families and property from large-scale industrial polluting farms. The legislation would do this by making it virtually impossible for rural residents to seek recourse in the courts when a factory farm moves into their community and wreaks wreaks havoc on their quality of life, for instance, by emitting horrible odors.
In light of ag-gag's continuing defeat, agribusinesses are frantically throwing new bills at state legislatures across the country just to see what sticks. But if animal agriculture wants to be on the winning side, it should bet on the fact that organizations like the Humane Society of the United States will fight bills that are bad for animals in whatever form they appear. Then maybe instead of spending resources trying to cover up animal abuse, the factory farming industry will finally start implementing much needed reforms.
Matthew Dominguez is the public policy manager of farm animal protection at The Humane Society of the United States. Follow him at @Matt_Dominguez.