He Snapped His Own Chain In A Desperate Bid To Live
Wandering the streets of a New Jersey neighborhood, he must have seemed like the ghost of a tortured dog.
His neck was blood-red, his skin was actually growing through his steel collar and he dragged a clanking chain in his terrible wake.
But Benny was no ghost. At least, not yet.
WARNING: The following contains graphic images.
The 2- or-3-year-old boxer - pit bull mix had spent his life in a crude chokehold, a collar around his neck digging deeper by the day. He couldn't grow without his collar biting deeper into his neck.
Kathy DeBlock
Kathy DeBlock
Earlier this month, he appears to have taken things into his own hands, somehow snapping his chain and finding his way onto the streets of Paterson, New Jersey.
That's where a compassionate passerby found Benny and brought him to Franklin Lakes Animal Hospital.
The product of long-term neglect, Benny was brutally skinny, suffering from anemia and parasites.
Kathy DeBlock
Kathy DeBlock
And then there was that infernal collar.
"The chain was broken and hanging, but it was so far in his neck we had to cut it out," Kathy DeBlock, lead technician at the animal hospital, told The Dodo.
From there, it didn't take long for the dog who spent so much of his life at death's door to show every sign of holding fast to life.
Kathy DeBlock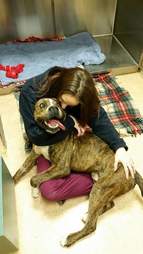 Kathy DeBlock
"He just wants to be with people so badly," DeBlock says. "He sees us and he wants the attention, he wants to be petted."
Kathy DeBlock
Kathy DeBlock
But for now, Benny sleeps in an isolated cage at the hospital. It's not ideal, but the hospital facilities aren't designed to board dogs. DeBlock is hoping a local rescue will pick up Benny.
"If we can get a rescue, I'd like to get him out of here," DeBlock says. "A rescue with a foster would be ideal. He hates being locked up and in the isolation ward."
You can give Benny a hand on his road to recovery by making a donation to his care.
"Any rescue that steps up and take him, he'll have his neuter, vaccines, everything will be done," DeBlock says. "We are just trying to find him a good home."