Bear Caged For A Decade Is Freed With Ambitious Crane Rescue
The male bear, now called Bern, had been kept at a truck stop in a small town in Vietnam's Ba Ria province for the last four years.
Bern's history is almost entirely unknown but it's believed that he was caged for at least 10 years. Bern will undergo a thorough examination at Animals Asia's sanctuary which would show up any history of bile extraction.
Thanks to a local crane operator, the rescue team was able to transfer Bern from his original cage into a transport cage without the use of anesthetic.
Photo: Animals Asia
Bern's original cage was winched out into an open space and the transport cage door directly secured against its door.
Bern's favorite treat - honey-coated fruit - was used to encourage him into the new cage, and once inside, the crane was again used to lift him onto the truck that would carry him home.
Animals Asia Vet Nurse Lisa Brailey said:
"It was important to calm and reassure Bern during the transfer when he was being lifted by the crane. Luckily, we'd already introduced him to honey, marshmallow, dried banana and condensed milk, so we knew what he liked.

It took Bern over 45 minutes to feel comfortable enough to move from his old cage into the transport cage - even with all the sweet treats waiting for him on the other side. But a little patience and some honey was all he needed in the end."

Bern's rescue had long been planned but paperwork wasn't finalized right up to the morning of the rescue when the bear's care was transferred to Animals Asia.
A visual health inspection convinced the vet team that Bern was fit to travel allowing Senior Veterinarian Joost Philippa to leave the rescue team.
Joost said:
"Bern is a huge bear and has been exhibiting stereotypic behaviors common in stressed bears which has resulted in some hair loss on his head, but generally he and the other two bears all seem fit to travel.

The sooner we get them back to the sanctuary, the sooner we can really evaluate their condition and begin their rehabilitation."

Bern will now join Coco and Yogi on a 2,000 kilometer (approx. 1,240 mile) journey up the coast of Vietnam to Animals Asia's Vietnam Bear Rescue Centre in Tam Dao.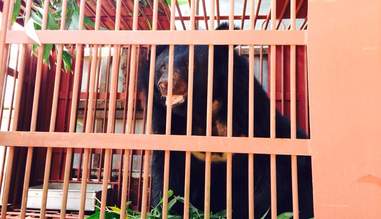 Photo: Animals Asia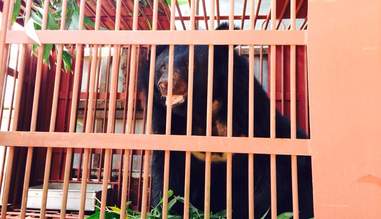 On Friday night, the team hope to reach the seaside city of Phan Rang in Ninh Thuan province, and expect to arrive around 8 p.m., Vietnam time.
Bern was nicknamed after the Swiss city. Animals Asia has many Swiss supporters, not least of all the Swiss Ambassador to Hanoi who was extremely supportive of efforts to save the Halong Bay bears.
Animals Asia's Vietnam Director, Tuan Bendixsen said:
"We're delighted to have all three bears in our care and are ready to begin the long journey home. It's particularly hot here in the south so hourly stops are required to water the bears, and generally keep them comfortable."