When Zeus's family said goodbye to him in 2012, they were heartbroken. A military assignment took them overseas to South Korea, so Ben and Melody Harworth and their two sons left their beloved rottie mix in the care of a family friend in North Carolina.
Only a few months later, the Harworths got a devastating call from their friend, who told them that Zeus had passed away, local outlet WNCN reports.
But just last week, three years after Zeus' 'death,' the Harworths got another shocking phone call letting them know that their family dog was actually ... alive and well.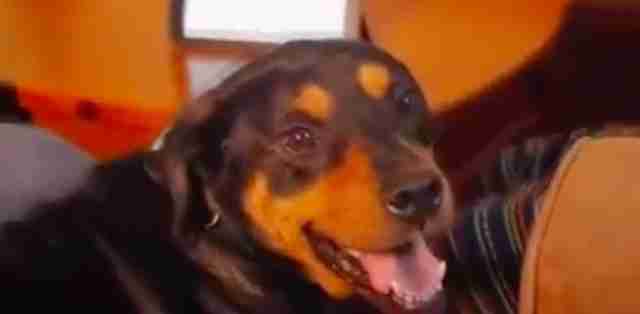 Laura Williams is a dog lover, so when she spotted a big rottie mix wandering near her Raleigh, North Carolina, home, she knew she had to help.
She got the dog into her car and took him to a veterinarian, where a microchip scan revealed that he was actually long-lost Zeus, WNCN reports.
Williams was in the room when the Harworths got the call telling them that the dog they had thought was dead for the past three years was still alive ... and ready to come home.
Volunteers are already teaming up to figure out another way to transport Zeus from North Carolina to his family in Washington. Banfield Pet Hospital has even offered to cover the cost of Zeus's medical care in any of their locations across the country.
Reporter Sean Maroney, who covered Zeus' story for WNCN, has also taken up the dog's cause; even launching a hashtag, #GetZeusHome, to help share his story. Maroney shared his piece about Zeus on his official Facebook page and added "We're getting him home :)"
Thanks to the kindness of strangers, the long-lost dog is hopefully just weeks away from seeing his family again ... and the Harworths have a second chance with the beloved family member they thought was gone forever.