Happy Valley-Goose Bay is a small, peaceful town, nestled in the northeastern corner of Canada, in the vast and picturesque Labrador region. Last November, local resident Peg Pelley was out walking and enjoying the crisp northern air with her dog, Whiskey, and her daughter's dog, Bella, when a shocking ordeal awoke her to a hidden danger lurking alongside the trails.
As usual, Peg allowed the two golden lab-husky mixes off their leashes to run around a wooded area off a quiet back road. The dogs were well trained and always came running back at the sound of Peg's voice. So when she called out for them but only Whiskey appeared, anxiously darting in and out of the woods, Peg knew that Bella was in trouble.
Peg hailed down a passing snowmobiler, John, who readily agreed to help. Hearing yelps of pain, the pair soon found Bella in a state of extreme distress. A fur trapper's steel leg-hold trap had slammed shut on one of her paws.
"She was chewing at the trap and biting and crying," said Peg. "There was blood everywhere."
Neither of them could pry the trap's powerful jaws open, so Peg stayed with Bella while John went in search of tools. It was during this time that Peg snapped a few photos of Bella in the trap, to use as evidence.
John returned, and after several more harrowing minutes, they were finally able to wrench the trap open and free Bella.
Once Peg had the dogs safely back in the car, the emotional toll of the ordeal caught up with her and she started to cry, she said.
Peg's daughter, Megan Pelley, was returning home from her job as a teacher at the local elementary school when she got the call from her mother, telling her what had happened.
The local veterinarian informed them that Bella had broken 17 of her teeth while desperately trying to chew her way out of the trap. They learned that all of the bleeding had been from Bella's mouth, not her paw, which was badly injured but not cut.
Due to the extent of her injuries, Bella required specialized dental surgery, and the closest clinic that could perform the procedure was 800 miles away, in Montreal. As Christmas approached, the Pelleys were facing over $5000 in veterinary bills and travel expenses.
Along with numerous individual donations to help ease the financial strain on the family, Humane Society International/Canada intervened, meeting with Bella and the Pelleys when they arrived in Montreal, and covering $2000 of Bella's veterinary costs.
The surgery was a success, and Bella is now back home recovering with her family. She has nerve damage in her paw, but she is otherwise back to her usual playful self, and is finally eating solid food again.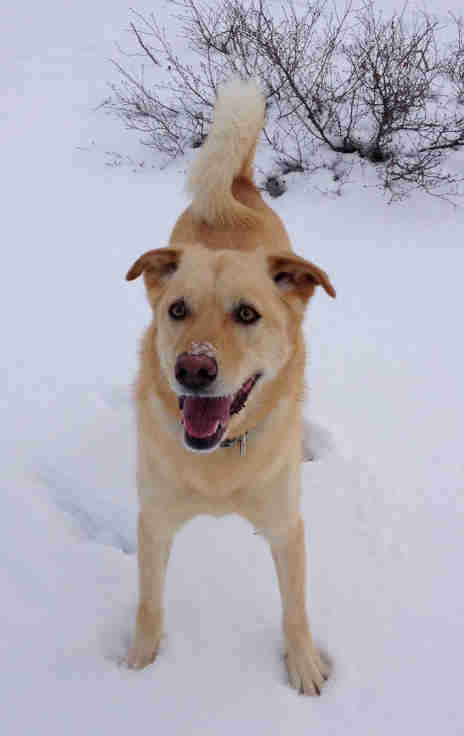 Using social media, Megan was determined to identify the person who had set the trap so dangerously close to the walking trails. She received several promising tips and reported the incident to the police, but was disappointed to learn that the trapper would face no consequences, even though there were no signs or markers posted warning about the trap.
"There was nothing that could be done because it's not illegal," said Megan. "People are getting away with harming innocent animals, and to me it's disgusting."
The family says they are still hesitant to take the dogs back out into the woods for walks because they no longer feel safe there.
Bella's story has a happier ending than those of the millions of animals caught in traps around the world each year, many of whom suffer alone for hours or even days before dying of exposure to the elements, wringing off their own limbs in desperation, or until trappers return to kill them – often by stomping or strangling.
Up to two thirds of all animals caught in traps are non-target species – including endangered species such as bald eagles, and companion animals like Bella. Concerning as this fact is, however, the truth is that there is no difference between their suffering and that of animals such as coyotes, muskrats and foxes, all of which are legally targeted for their fur.
The best way to protect companion animals like Bella and end the cruelty and violence caused by trapping is to stop the trade in fur products, thus removing the incentive for trappers to set their dangerous devices. Humane Society International and The Humane Society of the United States encourage all members of the public to help end the needless suffering of the fur trade by pledging not to wear fur-trimmed coats and accessories, and by asking friends and family to do the same.