He's blind and doesn't even know it!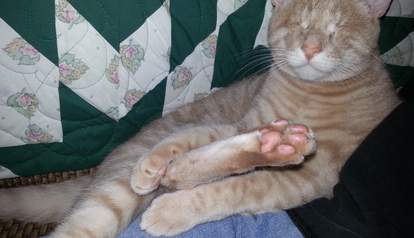 Of course, WE didn't need a cat (ok, well, maybe I did) and my husband doesn't dislike them, but he's allergic.Not just the sneezing kind of allergic, but the kind where he can't pick him up, snuggle with him, let him rub on his face, sleep on his pillow.He'd have a dog before a cat.So, should I mention, that he was on a hunting trip, and in and out of cell phone range when I called him and asked him if we could take the cat.He caved, like the wonderful hubby he is, but firmly informed me that all litterbox and vet visit duties were mine.Of course, he backs me up too.
He was just a little stray that ended up at the vet where my daughter worked.He had all the manor of issues a stray has; fleas, worms, hunger, and both of his eyes were full of infection.They removed the right eye right away.We named him Jack, for the 1 eye jack in a deck of cards.....and the pirate.;-]
The left eye had obvious damage; scar tissue had formed a dot in the center of his eyeball, the size of a small pea.The doc always referred to it as a 'button'.But the eyeball was still intact and firm and worth keeping.
It became apparent, that he had only peripheral vision in that eye.You could tell by the way he moved his head that he was trying to look 'around' the button.That didn't slow him down, quite the opposite.
He was a MADMAN!We worried for those first few months about his temperament and whether or not he'd calm down, he was so aggressive, almost feral.Ok, you get it, he's a kitten full of spunk and energy and.....claws and teeth.I did most of the interacting with him, and he tested me big time.It went beyond playing, he would grab on and bite, any part of me.And he didn't always hit and run, he would latch on tight and hold on.I would have to pry his mouth open to get him to release!I'm sure I have scars on my chin.
He would chase me down the hallway trying to grab for my legs from behind.Because of the vision problem, he was usually a few steps behind me and looked a bit like a kangaroo leaping after me.Many a time I went to work with long red claw marks down the backs of my calves. Of course, if he caught up with me, he'd bite my ankles!
With only 1 eye, and the other not working well at all, he was SCARY fearless.And he still is.
Jack, at 1 year old. Just before he lost the other eye.
Jack, at 1 year old. Just before he lost the other eye.
We talk to him all the time, so as to not startle him.As long as he knows where you are, he's comfortable.But it's very easy to startle him by just walking by if you're light on your feet.So....who's training who?
Something amazing happened when he was 1 year old to change him from that crazy dude, to an affectionate, sweet, pushy love bug.It wasn't by choice, but it turned out to be the best thing for him.It was the day I forgot to put the vacuum cleaner away.All it took was a split second.
Back then, we played a game every day.The bathroom had a door at each end, so when I would head that way, he'd take off after me.He'd try to anticipate which way I would go, so he could head me off at the pass.He wanted to get to the toilet lid first, so he could launch from there to the counter and plop down in the sink; he knew I'd turn the water on for him.It was all about the timing, a few times he'd been too slow and ended up making his move just as I was lifting the lid and ended up in the toilet! So, on this day he chose to run past me and try to make it in from the far end, and ran face first (eyeball first) into the vacuum cleaner.
It was 8pm on a Friday night.I called my daughter in a panic, I was fearing the worst, that he would have to be put down and I did not want to take him to an emergency vet.He was by then, curled up in his cat tree, not moving and the eye was bleeding.My husband was able to take a quick look, and said the eye was "busted".My daughter called the vet on call and we agreed that because he was not writhing around and crying out in pain (that he was as settled as he could be), to bring him in first thing the next morning.
It was a long sleepless night.We were all prepared to say goodbye that morning.That said, none of us were WANTING to give up.We'd spent the night worrying about the pain he must be in and wanted it to be over soonest.The vet had other ideas.She encouraged us to give him a chance and reminded us that plenty of animals lose their site, albeit, it's usually gradual and from old age, but totally do-able.He was young and had already had practice with limited sight. So, we removed the only eye he had.
He went home from the vet with my daughter for about a week as we were moving into a house just then.I must mention, she has 2 cats of her own, as well as a little calico rescue (her name is Koa). He'd been to her place for weekend play dates before and navigated her apartment very well.
So he had no idea of this new place, no map in his head like he had of the apartment.Not knowing how he was going to manage a big new place, with stairs, we brought him to our bedroom so we could close the door and give him time to explore in safety.And Koa came with him to be his seeing eye cat.It became clear right away, that he was not bothered in the least about a new place and the bedroom would not hold him for long.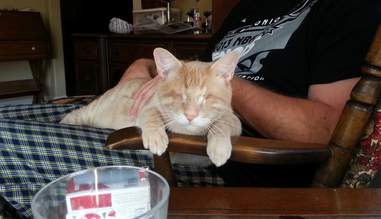 In the apartment, I had a small step stool at the end of the bed to make it easier for him to get up there.Before that, he would try to climb up the bedpost, unsuccessfully.Once I place the stool, I showed it to him, actually put his front feet on top, then lifted his backend up there, then placed his front feet on the bed, to physically show him what it was there for. I only ever had to show him once.And he didn't use the stool to get down, he just jumped in a huge leap of faith!
After he explored the new bedroom for a while, I showed him the step stool was in place and he knew just what it meant and wasted no time getting up on the bed.He walked around on the bed, tested all the edges.Because we've always talked to him, and it's always in words of encouragement (he clearly understands "it's ok" and "not that way").I let him know, based on what edge of the bed he was on, where the safe areas are for him to jump down.He wanted out to explore the rest of the house within 20 mins.
While he is the same cat as far as that madman spirit, he is a whole new cat.We're fairly certain that the eye he had was causing him some discomfort, generally, all the time, which was why he was so aggressive.I can honestly say, if I'd known that, I would've taken the left eye right away, to have him in this better place that much sooner.So, in that regard, I am glad it's gone.We're certain he is too.
I could sit and watch him all day.He is unaware he is blind.
They say that cats sense spaces with their whiskers, in his case, it's about his ears.He maneuvers by sound.He is only now, after a year of being in the house, venturing into the kitchen.It's a wooden floor in there, which changes the acoustics and he startles easy in there.
He's taught us to slow down, be more aware. For instance, when walking into a room, look before you close the door as he's probably just a few paces behind you.Going up and down the stairs, stay in the center as he'll run up or down along the side.
I have watched him walk through a doorway that is partially closed and account for that and change direction, long before his whiskers touch the door.
He can track anything; he can hear Koa from 20 feet away, even if she's only just sitting there.I've watched him track a fly. He comes running when he hears the icemaker, waiting for that stray cube that hits the floor, he will play with it until it melts.
He loves boxes (what cat doesn't) and bags and paper.He's loves to put his toys in the water bowl, sometimes he takes them back out too.
I can't tell you how many times he's drowned his skunk!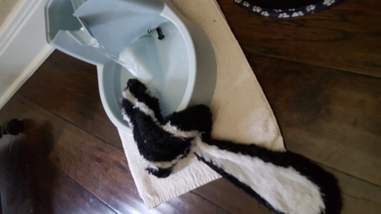 I can't tell you how many times he's drowned his skunk!
He travels from the couch to the coffee table to the other couch to the end table to the top of the cat tree.He maneuvers, at full speed chasing Koa or a toy, under, around and through the legs of the dining room table and chairs.
Jack and Koa.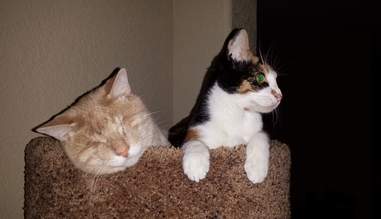 Jack and Koa.
He is absolute in his mission to be on my lap whenever I am on the couch.He is very pushy with his affections.He loves to have his face rubbed and to tuck his face in the blankets.
Love bug!
Love bug!
Master tailor! He's not too good with a needle and thread......
Master tailor! He's not too good with a needle and thread......
He insists on helping me at my sewing machine.
And he's a poser!
Just hangin' out.......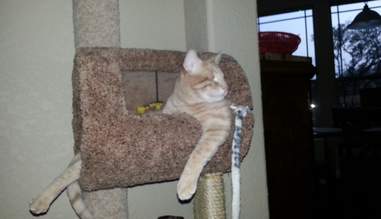 Just hangin' out.......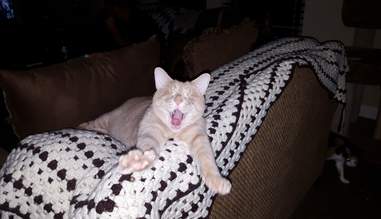 .................he is love................
....I am king...............
....I am king...............