Before and After - Olivia's story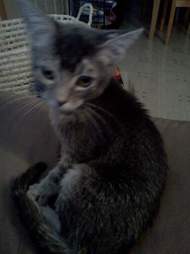 It's still difficult to believe that Olivia...my Olivia...ever looked like the kitten in the above picture. She was a Craigslist kitty. The post stated that she was rescued from a home where she and her sisters were to be snake food. I wasn't so sure about this! A couple of phone calls were made and a meeting was set. I met the "rescuers" in a Walmart parking lot 30 minutes from my home. This was close to a Russell Stover candy/chocolate store so I figured, even if I didn't take Olivia home with me, I'd at least not have wasted a trip to get some chocolate. I'll admit that I didn't think too much of her when I saw her. She looked worse in person than in the picture that was advertised on Craigslist. But the moment she was in my arms she crawled as best she could to touch my left cheek with her head, and she began to purr. That was it for me. I knew then that she would be mine and that I would love her completely. I didn't stop at the chocolate store. I went straight to PetSmart and purchased everything she could possibly need. I took her home to meet my Dachshund, Chester. Their love was instant. She loved him so much that she gave him ringworm coupled with a staph infection. Upon taking them both to my vet, it was discovered that Olivia had ear mites, ringworm, and was malnourished with patches of hair missing due to ringworm. Chester had ringworm and staph infection. The following weeks were tough trying to get them both healed, but they never complained. They played and ate and slept and kept on loving each other and me.
Almost a year ago I had to make a difficult decision. My family was struck with tragedy in 2013. My parents no longer had any of us kids living in the house and had no pets of their own. They've been wanting a dog but haven't had the time or energy to properly care for and raise a puppy. They needed comfort. They needed to take care of something. They needed unconditional love that can only come from having a loving pet. So, I made the difficult decision to tell them that I wouldn't be able to take care of Olivia due to my hectic schedule and that I would appreciate it if they would take her in. I could still visit and know she was safe. They needed her love. When I see how she cuddles with Nana and Papa, and how they call for her and seek her out because they want to spend time with her (even while I'm there), it makes me smile. I know that the best was done even though it hurts sometimes.
This is Chester and Olivia at their Nana and Papa's house (aka my parents). I actually had to give Chester away around the same time last year as well, which was equally as difficult. I found a loving family not far from me who have two other Dachshunds. They rule the farm! And he is as spoiled there as he ever was with me.
Sometimes we have to make the decisions that are best, but that doesn't mean they are easy. I have teared up looking at these pictures and writing this story down because I still love "my babies" very much. I miss them every day. When I visit Olivia, she knows I'm still her Mama. And having heard the funny stories my parents tell about her, and having seen the joy she brings to them daily, and also seeing how much they absolutely love her, I know that the best decision was made. I've never had my own children from my womb. Somehow, though, this is as close to loving unconditionally and making sacrifices for my babies as I can get.
And I'm okay with that.