Couple Adopts So Many Dogs They Need A Second Bed
You know you like dogs when your mattress is covered in dog-themed sheets. You know you love dogs when you put a second bed right up next to your own so you and your pups can all sleep together.
For the Hughes family of Clifton Park, New York, it's not a question of letting the dogs sleep in their bed - it's the other way around.
"My wife and I thank the dogs for letting us sleep in their bed," Chris Hughes told The Dodo.
Each of the Hughes' seven dogs was rescued from various forms of abuse. In the above photo, starting from the bottom left, going clockwise, the dogs are Sammy, who was rescued after being found chained in a basement; Money and Tejas, two former greyhound racers; Meatball, a former stray; Quinn, a rescue from a hoarding case; The Stig, a stray from Cleveland; and Gremlin, a former fighter who later worked as a therapy dog in schools and children's hospitals.
Hughes and his wife Mariesa recently pushed two beds together to accommodate the the family of nine. Previously, things were getting crowded.
"The pit bulls curl up and they take up a minimal amount of space, but the greyhounds' legs are just so long," said Hughes, who needs his own space on the bed as well. "I'm almost 6'5"."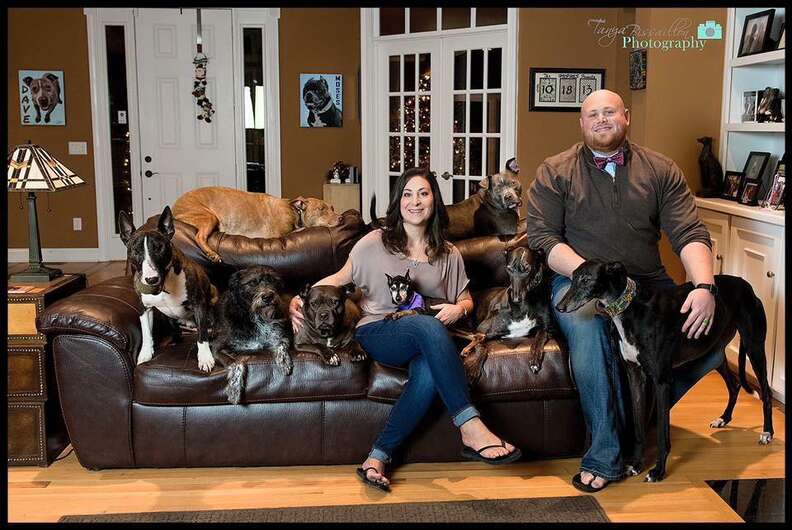 While the two beds pushed together may look like a finished product, the Hughes family isn't done yet. They're now getting in touch with a carpenter.
"I'm actually meeting up with somebody tonight to make our custom frame, and we're going to build stairs and a ramp into the frame," Hughes said.
Although the dogs come from unique backgrounds, Hughes says they're all one big family. "We've had nine dogs; two passed away in the past two years," he explained. "They all come from different paths and have different temperaments, and they all work together."
The sleeping arrangements are a testament to the bond between the family, a group of humans and dogs from across the country who come together every night to keep each other close.
The Hughes family runs Mr. Mo Project, a rescue for elderly dogs, and Gremlin serves as the rescue's mascot. To learn more about the rescue, check out its website.