Bears Saved From Bile Farm LOVE Their New Dog Toys
Angus the bear has all the time in the world to savor the little things in life.
Especially when they're made of tough rubber and smell like peanut butter.
At a sanctuary in Vietnam run by Animals Asia, he's the king of Kong - those famously indestructible toys usually seen clenched in the teeth of a dog.
Animals Asia
But seven years ago, he was just a prisoner. When he was a cub, Angus was captured by a poacher in Vietnam and sentenced to life on a bile farm.
Considered one of the cruelest industries for animals, bile farms keep bears in tiny, sunless cages, where their bodies are yoked for a single purpose: the lifelong harvesting of bile.
Animals Asia
Animals Asia
Pierced with a tube to extract the product, Angus would have become little more than a living, breathing factory.
But Angus was rescued on his way to that dark place. Wildlife authorities arrested the poacher and handed Angus over to Animals Asia, where he lives among 150 bears rescued from the same fate.
These days, Angus likes to sprawl on his back in a grassy enclosure, and ponder the deepest mysteries of a Kong ball.
Animals Asia
Dog owners will no doubt be familiar with these mighty mounds of rubber.
The bear version is no different.
"The Kongs are exactly the same as those used by people with dogs at home," Heidi Quine, a veterinarian team director at Animals Asia, tells The Dodo. "We like to use the ultra-durable black kind here at the sanctuary and they have always proven to be an incredibly popular toy."
Indeed, Angus isn't the only bear at this sanctuary, whose road to a new life seems paved in chewy, plastic balls.
Staff members have been doling out Kongs - donated from the company - to its residents as part of an enrichment program.
The late Jasper, for example, liked to fish his toy out of the pool.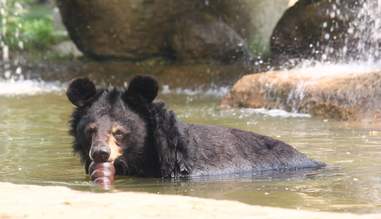 Animals Asia
And there's Rain, who seems almost dwarfed by his toy.
Animals Asia
And Layla, who's notorious for throwing her Kong across the enclosure after she has pried out the treat.
Animals Asia
For these bears, the toys seem like tough, rubbery Rubik's Cubes - the perfect way to wile away a day. And sanctuary staff adds a tantalizing prize to the mix.
"We stuff them with delicious and nutritious treats like oats, rice, dried fruit and even peanut butter and then hide them throughout our bear enclosures," Quine explains.
Animals Asia
Sometimes, staff will dangle a Kong high up in a tree to encourage a bear to stretch a little.
Animals Asia
Or bury the toy in the ground to put the animal's foraging claws to work.
It all adds up to fun for animals who often arrive at the sanctuary "frightened, sick and angry," Quine says.
Animals Asia