Oxygen Mask Saves Bearded Dragon After Fire
<p><a class="checked-link" href="http://www.manchesterfire.gov.uk/updates/incidents/firefighters-rescue-lizard-from-bolton-house-fire/">Greater Manchester Fire and Rescue Service</a></p>
A woman living in Manchester, England managed to escape her burning home this week with her two huskies, but one beloved family member was still left in the house: her bearded dragon.
Firefighters from the Greater Manchester Fire and Rescue Authority quickly sprang into action, entering the house to douse the fire, which they believe was started by an electrical fault behind the refrigerator. According to the fire department, they then went to revive the lizard, who was stranded helplessly in his cage.
Despite what their name might suggest, bearded dragons fare just like any other animal does when confronted with a blazing fire: poorly.
To help the reptile recover, a firefighter administered oxygen to the reptile using a mask: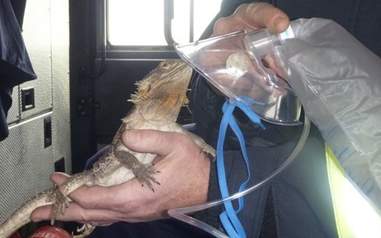 Thanks to his quick thinking, the bearded dragon is now doing fine.
Chair of Greater Manchester Fire and Rescue Authority, Councillor David Acton, said that the incident is a good reminder of the importance of fire safety - for people and for pets.
"Please can we remind people about taking extra care when it comes to their electrical items and not leaving them plugged in too long and making sure that wires, plugs and chargers and in good working order," he said.
See this page for tips on how to protect your pets from house fires.