Baby Bear Refuses To Let Go Of Mom — Even Though He's All Grown Up Now
Some things never change.
A bear cub growing up around Brooks Falls in Alaska came to be called Velcro because of just how incredibly attached he is to his mom.
Some people who follow the live camera feed from explore.org's Bearcam have spotted this relationship going on in the remote reaches of the wild - and it seems to ring universally true.
As a cub, Velcro could be found clinging steadfastly to his mom's back as she was fishing in a stream.
And he was just as clingy when she was calmly staring into the distance.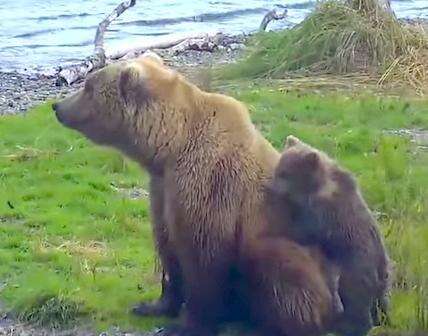 Velcro pretty much kept his paws on her everywhere she went.
And one year later, things haven't changed one bit ... even though Velcro is now just as big - if not bigger - than his mom.
Brown bears like Velcro in Katmai National Park tend to stay with their moms for at least their first two and a half years of life. They hibernate with their moms as cubs during their first winter, and then again the next winter as young adults.
"Katmai's bears generally separate from their cubs in May or June of a cub's third summer," the National Park Service writes. "The female probably uses threats or aggression to cause the young to disperse. Some females, however, will keep their cubs through a third summer before pushing them away the next spring."
It looks like Velcro's mom might have to let him hang onto her a bit longer.
Watch the full video of this relationship as it evolved over the past year.
Click here to watch more wild animal videos at Explore.org.