Bear Bile Demand Plummets As Pharmacists Boycott Products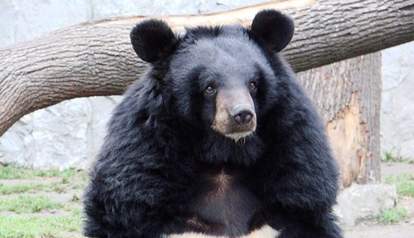 <p>Guérin Nicolas / <a class="checked-link" href="http://en.wikipedia.org/wiki/Asian_black_bear#mediaviewer/File:Ursus_thibetanus_3_(Wroclaw_zoo).JPG">Wikimedia Commons</a></p>
In the wake of revelations of animal abuse within the bear bile extraction industry, pharmacies are quickly joining a fast-growing boycott of the product. In roughly a year, the number of Chinese pharmacies that are boycotting bear bile products for animal welfare reasons went from 260 to 1,945.
The news was announced at a press conference held by Animals Asia, a group that has been campaigning to raise awareness about the problems associated with bear bile.
Bear bile is a digestive juice harvested from the gallbladders of Asiatic black bears, also called moon bears. The extraction process is usually very painful and often involves using a tube inserted in the bear's side to let the liquid drip out. What's more, bear bile farms are notorious for their sordid and cramped conditions. There are about 10,000 bears now kept captive for their bile.
The product is used as a kind of catch-all for a variety of symptoms, including fever, bad eyesight, bruises, epilepsy, and hemorrhoids. Thus far, scientists have not found evidence to support the substance's efficacy as a medical treatment.
But it seems that the tide is turning against bear bile. Jill Robinson, founder of Animals Asia, said in a statement:
"We're delighted that people are pushing to be a part of this campaign now. Healing Without Harm is a key part of our efforts to end bear bile farming and this initiative has seen an unprecedented rise in traditional medicine doctors and pharmacies supporting alternatives to the use and prescription of bile. It's fundamentally important to reduce the market and the availability if more bears are going to be helped, and this is just what we are seeing here."
Other efforts to reduce demand for bear bile have been introduced as well. In July, KaiBao Pharmaceutical, a major outlet for industrial bear bile farms, announced that it developed a five-year plan to support alternatives to the product. The move was seen as a big step in the right direction for the industry.
[rebelmouse-campaign #SaveBileBears target=1000 increment=500 twitter_share_message="Join @dodo and me in calling for the end to bear bile farming and #SaveBileBears" call="**Sign this petition** or share on Facebook, Twitter and Instagram with **#SaveBileBears**" theme=dodo]