Heroic Beagle Saves His Little Sister From Toy Snake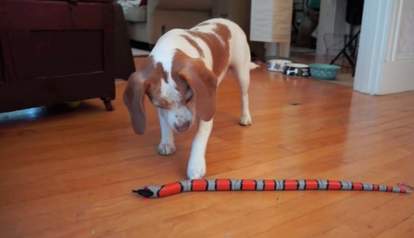 Penny the beagle is NOT impressed with this snake toy - in fact, it should just go away.
Fortunately her big bro, Maymo, has her back and jumps in between Penny and the fearsome beastie. Nice try, snake!
Maymo shows off his excellent pouncing skills and gives that mischievous snake a few good nips.
Penny still doesn't want to get too close to this mysterious creature, though.
Maymo finally figures out the snake's weakness, and sends it toppling.
Gotta give it a few pats and sniffs to make sure it's incapacitated. But it looks like Maymo and Penny won't have to deal with that slimy snake for a while!
Although Maymo and Penny seem to have it pretty good (especially now that the snake's gone), there are lots of beagles in the United States who aren't as lucky. In fact, some are still used in animal laboratories. Fortunately, there are awesome organizations like the Beagle Freedom Project that are working to rescue as many beagles as possible. If you feel like you would be ready to adopt one of these rescue beagles into a safe and loving home, check out your options here.
You can watch Penny and Maymo's entire valiant takedown below: