The beagle was 90 pounds when his owners dumped him at the city pound. They didn't want him anymore because he'd gained so much weight. They also thought he was also "too old," even though the dog was only 7 or 8.
He stayed at the shelter in Van Nuys, California, for a month. If he'd stayed any longer, he probably would have been put down - an obese dog like him needs extra care and has a hard time getting adopted.
Volunteers from Karma Rescue, a rescue organization in Los Angeles, learned about the beagle, named Darwin, and took him into their care. But they were shocked at Darwin's physical condition - they'd seen plenty of dogs in bad shape, but Darwin looked like he'd been neglected his entire life.
"He could hardly walk," Jason Espiritu of Karma Rescue tells The Dodo. "He was at least twice what he should normally weigh. Darwin could have died from heart failure or all kinds of other complications."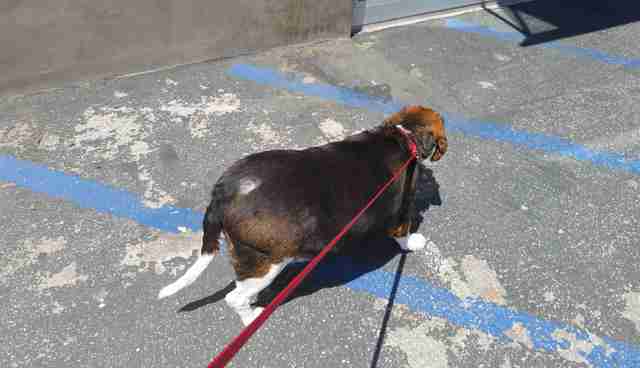 What Karma Rescue volunteers really couldn't understand was why Darwin's owners had treated him so badly. "He was such a sweet dog and had obviously been neglected for a long time," Espiritu says. "Everyone rallied around Darwin to give him the love and attention he deserved, and let him know that life was going to be better for him."
After spending several weeks at the veterinary hospital, Darwin went into foster care, and his caretakers slowly introduced exercise into his daily routine.
But Darwin had another issue - he suffered from extreme separation anxiety. Whenever his foster family left him alone, he'd bark and howl until they returned. "His foster family said neighbors would tell her that they could hear Darwin howling for hours after she would leave him," says Espiritu. "We aren't sure where he developed this behavior."
Karma Rescue volunteers refused to give up on Darwin, and they decided to enroll him in Paws for Life, a program developed by both Karma Rescue and the California Department of Corrections and Rehabilitation. Darwin would get 10 weeks of training with prisoners housed in California's high-security prisons. This training would help Darwin, but it would also provide rehabilitative therapy to the inmates.
Darwin learned socialization skills and basic commands like "sit," "stay," "wait" and "walk." But Darwin's trainers concentrated on helping the beagle lose weight and overcome his anxiety issues. "Darwin lost 25 pounds during his time there. He's at a normal weight now and a very sociable and balanced dog," says Espiritu. "The program also slowly crate trained and helped him build confidence so he was able to relax when left alone."
After 10 weeks in training, Darwin is a different dog - both physically and mentally. "He also doesn't suffer from separation anxiety anymore because the trainers worked with him on that as well," says Espiritu. "He also went from barely being able to walk, to running and playing and even jumping over tennis court nets! Darwin would have more than likely died without the care and love he received from Karma Rescue and the Paws for Life inmates."
While Darwin waits for his forever family, he's enjoying life at his foster home with his doggy brothers and sisters. "He's doing amazingly well, and Karma and everyone that knows Darwin are thrilled with how far Darwin has come," Espiritu says. "He's a true success story!"