Beagle Adds 3 Abandoned Kittens To Her Litter Of 7 Puppies, Is Best Foster Parent Ever
Mary already had seven puppies; she didn't need to add three kittens to the mix. But that didn't stop the abandoned beagle from welcoming a quarter dozen orphaned baby animals to her thriving litter at the Pickens County Animal Shelter in Georgia, where Mary was recently dropped off -- likely because she was pregnant. But, according to the shelter's assistant director, Judy Moody, Mary appears to have been born to be a mother -- to animals of all different species, no less.
"She loves her kittens," Moody told NBC Atlanta. "I took two of them away and she had a heart attack, poor thing ... If anything, [Mary's foster behavior] has given the kittens the companionship of the litter, the mother, the warmth."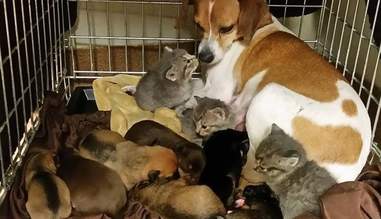 Photos via Julie Wolfe and Pickens County Animal Shelter.