The mere sight of a sharp-toothed aquatic predator lurking in the water is usually enough to send most folks scrambling back to dry land - but not these brave beachgoers. They know that sometimes even "scary" animals need a helping hand.
Earlier this week, brothers Marcus and Logan Lakos were amongst dozens of people out enjoying a day in the sun at Henderson Beach State Park in Florida when they spotted a swimmer in distress - specifically, a hammerhead shark. It would be hard to fault anyone for wanting to flee to safety or wait and hope that the large animal would swim away, but the Lakos boys' reaction was quite the opposite, and they convinced others to join them.
"I started pulling it in and it was kind of scary, but hammerhead sharks aren't really that dangerous to humans. Knowing that, I pulled it in," Logan told news station WJHG. "Everyone else was freaking out so it was hard to bring him in. But once people started realizing we were trying to help it, some of the other guys around were all crowding around it and trying to help it."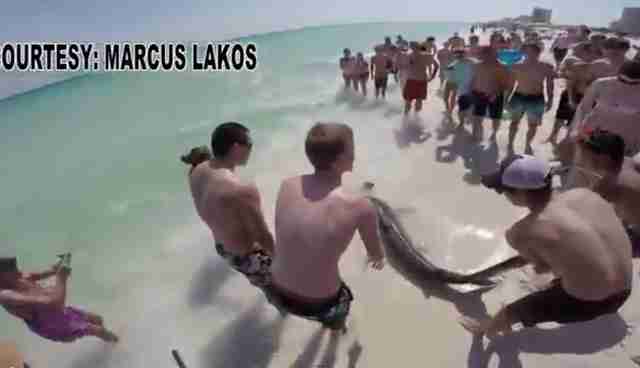 Once the shark was up on the sand, the source of her distress was clear - two hooks and a fishing lure were embedded in her mouth. Although those painful remnants meant she had survived previous run-ins with humans, they no doubt impeded her ability to eat, and potentially opened her up to infections.
Soon enough, Logan and Marcus were joined by dozens of other people on the beach who shunned their fear of sharks to come to her aid.
Watch video Marcus took of the rescue, showing beachgoers taking the hooks and lure from the shark's mouth.
After the items were removed, the shark was released to swim away - unburdened now thanks to the kindness of strangers who were compassionate enough to care.
While most hammerhead shark species are small and considered harmless to humans, attacks by larger individuals have been reported, though as of 2013 none have been lethal.