Baby Bat Who Lost Her Mom Finds Nice People To Help Her
These animals are starving and literally falling out of the sky.
No one knew bats in New South Wales, Australia, were starving by the hundreds until members of the public started reporting what they were seeing: The animals were literally falling out of the sky.
"As we were walking, we'd just hear 'thump, thump, thump' and they were falling dead," Margaret Cain, a caretaker for bats, told the Wingham Chronicle this month.
Habitat loss and irregular weather patterns are some of the factors contributing to what people are calling a major starvation event, a Sydney-based rescuer named Meg, who runs the Battie Blue Facebook page, told The Dodo.
Shoalhaven Bat Clinic
Many of the dying bats are nursing mothers.
Shoalhaven Bat Clinic
It's spring in the region, and because these particular bats - known as flying foxes - can't find enough food, the mothers are having trouble lactating. And the stress of starvation and motherhood becomes more than their little bodies can handle.
When the mothers die, they leave their vulnerable babies behind.
This is Mavis, a rescued bat who was found orphaned and starving.

| Facebook/Battie Blue
One such baby is Mavis, who was orphaned in November and is now being nursed every few hours by a woman named Liz Nathan.
After being nursed by her foster mom, Mavis has gained strength and a lot of weight.

| Shoalhaven Bat Clinic
Liz Nathan
"Mavis was found abandoned in the local Bomaderry colony together with 14 other baby grey-headed flying foxes," Janine Davies, a volunteer at Shoalhaven Bat Clinic (part of the Wildlife Rescue South Coast network), told The Dodo. "There have been hundreds of babies abandoned due to starvation in this area alone."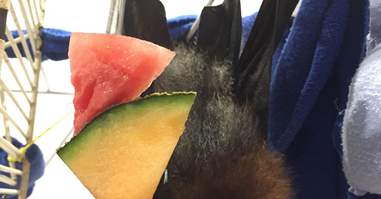 Liz Nathan
The clinic's intensive care unit is being inundated with bats in need, just like Mavis.
Liz Nathan
"When Mavis came into care she was a mere 133 grams [4.6 ounces]," Davies said. "Now with Liz, [Mavis] has put on weight and is doing really well."
Shoalhaven Bat Clinic
Mavis now weighs 7 ounces - a great sign of improvement. "She's looking more relaxed ... and is getting fatter and happier," Davies said. "No more sad eyes."
The intensive care unit at the bat clinic

| Shoalhaven Bat Clinic
But it's estimated that 75 percent of this year's generation of flying foxes has already died.
Shoalhaven Bat Clinic
Rescuers are still finding orphaned bats who have become too weak to hold onto the branches of the trees.
For the good of the species, these people are helping what's left of this flying fox generation to survive, patiently nursing the babies back to health every few hours.
An orphan bat named Luella Lovebat

| Shoalhaven Bat Clinic
Some rescuers are even climbing the trees to retrieve the desperate orphaned babies, still clinging to branches, hoping their moms will return.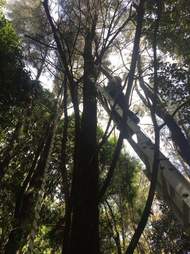 Rescuers are climbing trees to retrieve orphaned baby bats who are in distress.

| Shoalhaven Bat Clinic
"Our wonderful carers are working tirelessly," Davies said. "Some with very little sleep."
When the babies are about 5 months old, they'll likely be ready to be released back into the wild.
Until then, thanks to their foster parents, they're getting all the food and love they need to survive.
And some are even getting some tickles.
Shoalhaven Bat Clinic