Dogs Who Spent 7 Months In A Basement Go Outside For The First Time
<p>Detroit Pit Crew Rescue</p>
When the Detroit Police Department got a call about a homicide case, they thought they knew what to expect - until they arrived on the scene, and found dogs living in horrendous conditions.
Two dogs were found living in the basement of the victim's house, in a tiny, filthy utility closet, and had been there for seven months without ever going outside. A mom and her 4-week-old puppy were found upstairs in a makeshift pen, also filthy. None of his neighbors ever knew he had any pets.
Detroit Pit Crew Rescue
After discovering the dogs, the police immediately contacted Detroit Pit Crew Rescue, and Theresa Sumpter, founder of the rescue, came as fast as she could.
When Sumpter arrived, she waited outside with the mom dog and her baby while the police secured the house, and then went inside to retrieve the dogs in the basement.
"We went down to the basement and pushed the utility closet door open, and there were two young dogs just in a room filled with feces and urine," Sumpter told The Dodo. "There was barely any light in the room, and so when we opened the door, that was the first sunlight the dogs had seen in seven months."
Detroit Pit Crew Rescue
Sumpter took the dogs out of the house and gave them their first ever taste of fresh air.
Detroit Pit Crew Rescue
The mama dog and her puppy loved getting to roll around in the grass, and all four dogs seemed extremely relieved to finally be out of the trash-filled house.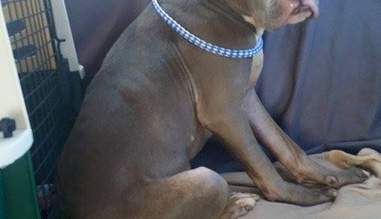 Detroit Pit Crew Rescue
All of the dogs were immediately rushed to Center Line Veterinary Hospital and started receiving care right away. The basement dogs had dilated eyes from being kept in the dark for so long, and the mom tested positive for heartworms.
The dogs are all currently still at the hospital, and will likely be released Wednesday. A separate rescue has been tentatively secured to take the dogs and arrange for them to be adopted.
Detroit Pit Crew Rescue
We'll update this post when we have more details about when they'll be ready for adoption.