Dog Who Spent Most Of His Days In A Basement Finally Gets A Very Special Home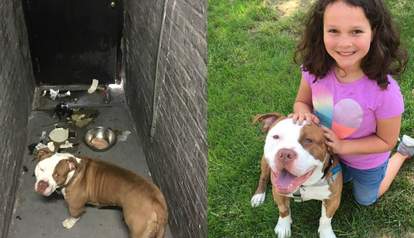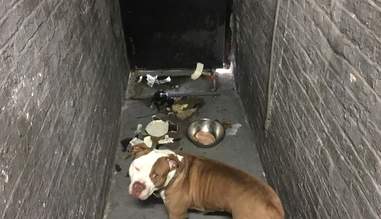 Jessi Stafford
And now, Max has finally been adopted.
Several families applied to adopt Max, but one stood out to Elli Frank, founder of Mr. Bones & Co., above all the rest.
"We have chosen a very special family, in large part because of the way we believe Max learns best," Frank told The Dodo. "Because he spent so long in isolation, he is a very visual dog. Verbal cues have very little effect on him as he is in sensory overload right now, with so many new sights and smells."
Max now lives with Courtney Kinser and Noel Lamboy, and their 8-year-old daughter Lily - a family absolutely perfect for Max, because Kinser and Lamboy happen to be deaf/hard of hearing, and are both teachers at a school for children who are deaf in New Jersey.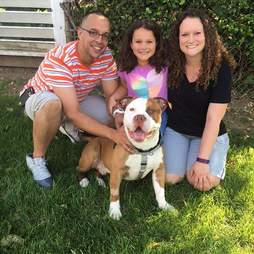 Mr. Bones & Co.
Instead of training Max by speaking to him, the family will communicate using sign language, an important tool for dogs who need visual cues, even if they aren't deaf.
Another incredible detail in this heartwarming rescue story is that Max's new family recently lost their own senior pit bull ... whose name was Maxx.
It would seem that Max and his new family were simply meant to be.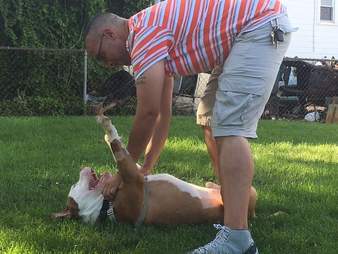 Mr. Bones & Co.
So far, Max is fitting in wonderfully with his new loved ones, and grew comfortable with them from the very moment they met.
Mr. Bones & Co.
"Max is indeed very special. He is a QUICK learner," Kinser told The Dodo. "He knows the sign for 'sit' and 'down,' and he is currently learning the sign for 'stay.'"
Mr. Bones & Co.
While no dog could replace the late Maxx, this family's new pup is helping them to move on and heal, and bringing lots of puppy love and kisses back into their family.
Mr. Bones & Co.
"We miss Maxx dearly and it is extra special that this pup's name is Max," Kinser said.
Max now officially has a family, who has the most loving, grateful dog there ever was.
After all Max has been through, there couldn't be a happier ending. You can help Mr. Bones & Co. save more dogs like Max by donating here.