People Are Shocked To Discover Where Pet Store's Puppies Come From
"I'm still devastated."
The employees at Barkworks - a pet shop chain in California - say the store doesn't sell puppy mill dogs.
Rather, they claim to source their dogs from small operations. The puppies are born and raised in someone's home, they say. "We don't send people home with a sick dog," one employee says in a newly released undercover video. "It's against our morals."
Just after the employee says this, a woman opens a door to a room where she'd been spending some time with one of the puppies Barkworks has for sale.
"Your dog's not doing well," the woman in the video says. "He keeps doing this noise and then spitting up."
The employee admits that the puppy "might have a little cold."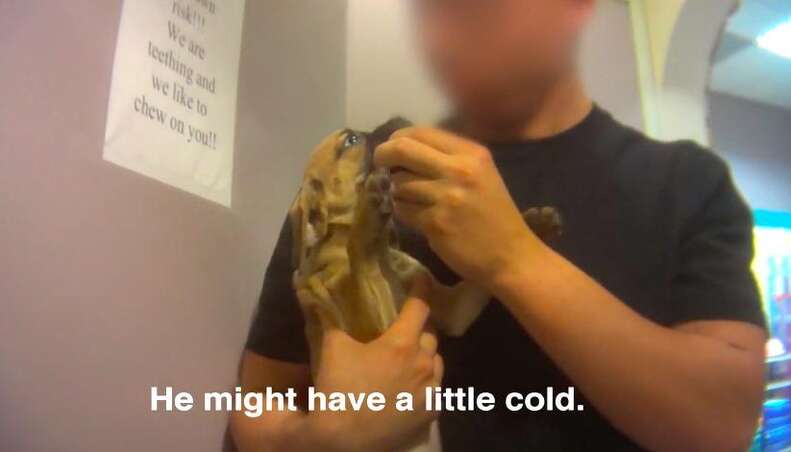 Even though Barkworks has come under fire in the past for misleading its customers about where its dogs come from, it seems the company hasn't learned from its mistakes.
New undercover footage released from the Companion Animal Protection Society (CAPS) shows that they're still getting their puppies from some of the worst puppy mills in the country.
The footage, which looks at a number of pet shops in Southern California, includes undercover investigative work at a Barkworks store in a mall in Brea, California. The just-released footage was shot last year.
When the CAPS investigator asked for the puppy's records, he recognized the name of the "breeder": Dennis and Donna Van Wyk, of New Sharon, Iowa, who run the Prairie Lane Kennel, which, the investigator says in the video, is "one of the worst breeders I've ever seen."
"Dennis and Donna Van Wyk run a USDA-licensed dog breeding facility in Iowa, where they produce puppies for the pet shop industry," a CAPS investigator wrote in a May blog post. "CAPS has been monitoring it for a decade and a half, documenting horrible animal welfare violations there. I recently went in, hoping to find improvements since my last visit. But sadly, nothing had changed."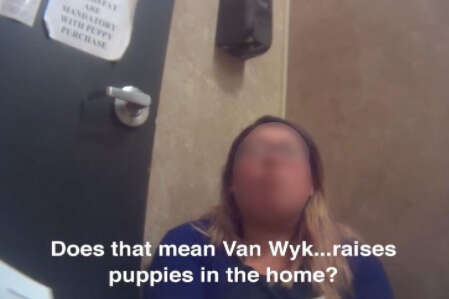 During this recent visit to the facility, the CAPS investigator reportedly saw 45 dogs and four puppies on the property, but "could hear more just out of view. Paint peeled from the wooden and wire cages. Feces covered the floors. There were dogs with missing eyes. Dogs with injured feet. And a German shepherd with a bloody swollen ear, limply hanging, and a gash across her bleeding nose."
Three out of four USDA inspection reports for the facility said the facility was without violations. A USDA license, however, often doesn't mean much, as USDA standards can be infamously low. As the ASPCA notes, it's still entirely legal "to keep a dog in a cage only 6 inches longer than the dog in each direction, with a wire floor, stacked on top of another cage, for the dog's entire life."
The USDA inspects its licensed facilities only once a year, on average. In May of this year, the USDA found 146 animals at the Van Wyk facility, where the sick puppy at Barkworks came from.
If the CAPS account is accurate, it's no wonder the Barkworks puppy was spitting up. The sheer volume of dogs produced at puppy mills means that little attention is paid to a puppy's health or upbringing. Puppies often have congenital illnesses or behavioral problems, and they can even arrive at the pet store sick with kennel cough, mange, heartworm and other ailments. And this wasn't the first time a puppy at Barkworks turned out to be sick.
"In California, when you go into a pet store, they have to tell you where their dogs come from," Deborah Howard, president of CAPS, told The Dodo. "A lot of what we find is consumer fraud. Barkworks is the most outrageous."
In 2014, The Animal Legal Defense Fund (ALDF) filed a complaint against Barkworks alleging that the company "systematically violated California consumer protection law by tricking consumers into buying sick 'puppy mill' dogs." Then, in 2015, after new customers came forward, ALDF added class action allegations after hearing that many customers had to rush their new puppies to the vet just days, or even hours, after buying them.
The lawsuit, which Barkworks tried - and failed - to get dismissed earlier this year, alleges Barkworks' illegal business practices include misrepresenting puppy mills as "reputable" breeders, providing inaccurate breeder information, fabricating breeding certificates and lying about providing veterinary care.
And people have seen how cover-ups impact the dogs themselves. "DO NOT BUY FROM THIS PET STORE!" one Yelper, among many who gave the store just one star, wrote about the Brea Barkworks. "My close family friends purchased a dog and it became so ill it crashes at the vet and took two minutes to revive him. This happened within 3 days of purchasing the dog."
The consumers who end up bringing home a sick puppy can find themselves heartbroken. "My husband bought us a Neo Mastiff from this location for Christmas," one Yelper wrote on October 27, 2016 about the Barkworks store in Cerritos, California. "After purchasing the puppy he surprised the girls and I in the store on December 19th. We were on cloud 9 to have this new addition to our family. We took him to the vet and found out he had giardia and was given medicine to fight the parasite. We had to do two rounds of medication because the first round was not successful. Then at 10 months old and only having him for 8 months he passed away on August 16th, 2016. His Birthday just passed on October 12th and I am still devastated."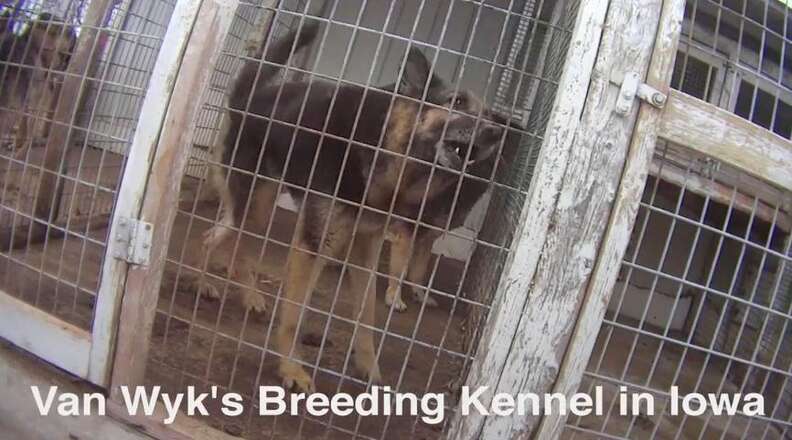 Nearly 4 million dogs enter U.S. shelters every year, and 1.2 million of those are euthanized. Given those numbers, ALDF has pointed out that it's hard to justify breeding dogs in puppy mills for profit. Barkworks typically charges hundreds of dollars - if not more - for its puppies.
And this isn't just Barkworks - pretty much every puppy sold in a pet store or online comes from a puppy mill. Petland sources its dogs from some of the worst puppy mills in the country. Recently, a Petland branch was discovered selling an albino Boston terrier for over $5,000.
"No dog lover should have to go through what Barkworks' misled customers had to endure," Stephen Wells, executive director of ALDF, said.
"With the Christmas season coming up, it's really important that consumers know where their dogs are coming from," Larris said. "That cute dog in the window at the pet store might not be from a nice little couple in California. So, do your research."
Barkworks in Brea, Cerritos and Riverside did not immediately reply to The Dodo's request for comment. The Prairie Lane Kennel did not immediately reply to The Dodo's request for comment.
Adopt, don't shop. Visit Adopt-a-Pet to get started.
To help CAPS continue investigations like these, click here. To help ALDF take places like Barkworks to court, click here.
If you have concerns about the welfare of the dogs at the Prairie Lane Kennel, you can write to Bernadette Juarez, deputy administrator of animal care for the USDA, at Bernadette.r.juarez@aphis.usda.gov.