Between 2008 and 2009, 11 bears were purchased by the Dambri Resort, based in the Lam Dong Province of Vietnam. The owners wanted to teach the captive bears to dance so that they could become circus attractions.
Bao Lam, a moon bear, was one of them.
Earlier this week, the 12-year-old bear's life took one incredible turn - for the better.
Finally bowing to pressure from Vietnam's forestry department, the resort decided to hand over Bao Lam to Animals Asia. On Tuesday, a rescue team drove out to pick up Bao Lam and began a four-day journey to Animals Asia's Vietnam Bear Rescue Centre (VBRC), in Tam Dao National Park.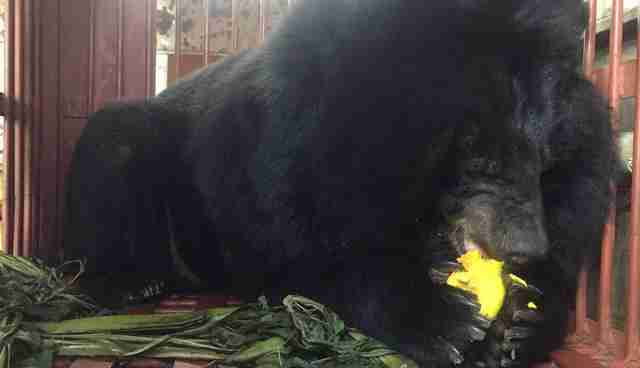 Throughout her trip so far, Bao Lam has been spoiled with treats like honey and watermelon.
"It's indicative of the lack of bear expertise at Dambri Resort that they had always believed Bao Lam to be male," Animals Asia stated. "Animals Asia vets were soon able to identify Bao Lam as female - also noting cracked teeth, a cataract and damage to her front legs that made walking difficult."
Bao Lam is expected to arrive at the VBRC on Friday, where she'll first be quarantined and then rehabilitated.
"During that time her carers will build up her strength with rest and better diet and schedule any surgery that can be carried out immediately," Animals Asia wrote on Facebook. "What is absolutely vital to understand in this process is that this is the first time Bao Lam will be treated as an individual."
After her initial quarantine period, Bao Lam will then move to an outdoor enclosure where she'll be able to interact with other moon bears like herself for the first time - though it will more than likely take her a while to get used to her newfound freedom.
Moon bears are a vulnerable species whose threats to survival include habitat loss, bile farms, trade and live capture from the wild - only to be forced into lives as pets or used for entertainment. Animals Asia deems Bao Lam one of the "lucky ones," with thousands of bears still trapped in cages across Vietnam and China.
"Animals' lives should be worth more than their monetary value," Tuan Bendixsen, Animals Asia's Vietnam director, said in a press release. "This is Vietnam's natural heritage, these bears should not have been bought and sold on a whim. And they shouldn't have died. Bao Lam has hung on for her rescuers and we arrived just in time."
Fortunately for Bao Lam, she has been spared from a fate that more than likely would have ended in her own death.
"At our sanctuary beneath the mountains, Bao Lam will arrive and sniff the air and we're pretty sure it'll smell of home," Animals Asia continued in the Facebook post. "It is a paradise."