Rescue Dog Refuses To Sit Still For A Normal Picture
His name is Banana and he has A LOT of energy.
Banana is a dog with a lot of energy. Whenever it's time to play outside at the boarding facility where he lives, the 4-year-old Chihuahua mix races around the yard as fast he can, teases the other dogs and steals leashes and ropes out of his caretakers' pockets.
Lollipop Kennels
"He's always moving around," Shilah Remsburg, the lead kennel tech at Lollipop Kennels, a boarding facility in Texas that houses rescue dogs, told The Dodo. "You can't get him still for a minute to get a normal picture of him. He's just really goofy and has a lot of energy."
Banana also has an extra long and lanky body for a Chihuahua, which allows him to strike the most unusual poses, including one that made him look like a crab.
"He was actually crouching down to jump up on me when I took that photo," Remsburg said. "His arms and legs are just so long - it looks hilarious."
Lollipop Kennels
But life wasn't always fun for Banana. Last October, police seized Banana, his two siblings, Pear and Peaches, their mom Apple and several other dogs from a house in Lubbock, Texas. The owner had neglected the dogs, and they weren't getting enough food or water, according to Remsburg.
"Banana was part of a nine dog group that got taken during a police raid," Remsburg said.
A family member of the homeowner who was raided took in a few of the dogs, and Lollipop Kennels took in Banana, Pear, Peaches and Apple.
Banana and his mom, Apple, at Lollipop Kennels

| Lollipop Kennels
Unfortunately, Peaches died shortly after arriving at the kennel.
"They all came in with upper respiratory infections," Remsburg said. "They were malnourished and Peaches was too weak and didn't make it."
Thankfully, the others managed to recover.
Last December, Pear was adopted, but Banana and Apple are still looking for their forever families.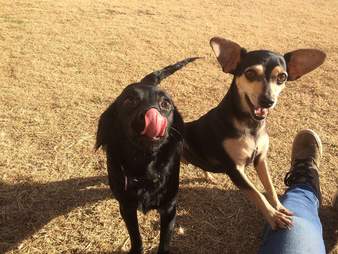 Banana and his mom, Apple

| Lollipop Kennels
Based on Banana's rambunctious personality, Remsburg thinks he'd suit someone with an active lifestyle.
"He doesn't like to be held much," Remsburg. "He just likes to run around. He's not the type of dog who would just sit and chill. He'll be a handful for sure. He's going to need someone to throw him a toy or ball and give him some exercise."
Lollipop Kennels
Remsburg hopes Banana is adopted soon, but she'll certainly miss him.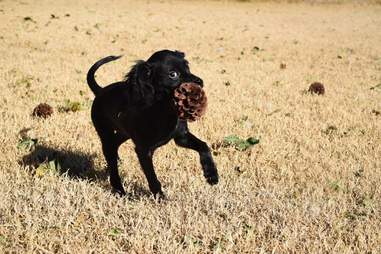 Lollipop Kennels
"I love his goofy personality," she said. "He's fun and he makes me laugh. He's definitely a cool pup."
If you're interested in adopting Banana, Pear or another dog at Lollipop Kennel, contact the facility through its Facebook page.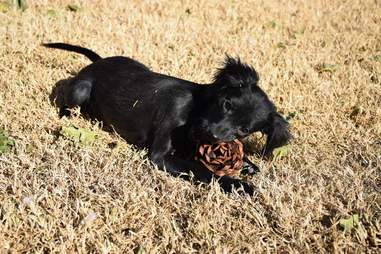 Lollipop Kennels