Bald Eagle Flew For DAYS With A Trap On His Leg
"He ignores his own issues to take care of family."
Few devices in use today are as cruel, deadly and indiscriminating as leghold traps - their steel jaws set to snap down on any animal unfortunate enough to land a limb within range of its powerful bite.
Though countless animals die in these traps each year, their suffering is almost aways seen only by the one who caused it.
In this instance however, the horror of this device was visible for all to see. And so, too, was the extraordinary perseverance of one creature caught in its grip.
Susan Boardman
On Sunday, Susan Boardman was out with her husband near their home in Bonneauville, Pennsylvania, when they spotted a bald eagle on the ground in the distance. While normally such a sighting might inspire wonder and humility, opposite feelings arose as the eagle took flight.
It was then that they noticed the trap latched tight on the eagle's talon - evidence of an attempt on his life, which he somehow managed to overcome.
"It was heartbreaking to see him like this," Boardman told the York Dispatch.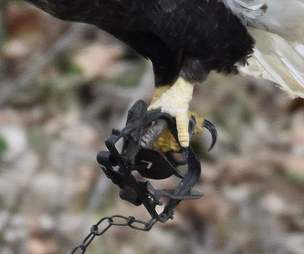 Susan Boardman
Even in this predicament, the bald eagle managed to fly away. Boardman alerted wildlife officials and others that help was needed to save him.
After seeing Boardman's photos, local birdwatchers and wildlife experts spent the following days trying to track down the imperilled eagle, fearing he would soon starve to death or perish from what appeared to be a possible infection on his talon.
Then they found him.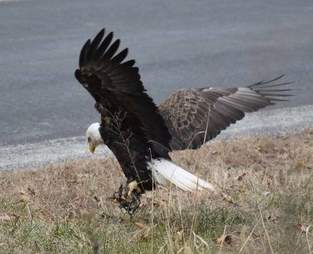 Susan Boardman
On Wednesday, the bird was discovered perched high in a nest alongside his mate, with that cruel trap still attached.
For birdwatcher Karen Lippy, who first spotted him there, his insistence on staying alive clearly had been driven by something bigger than himself.
"He ignores his own issues to take care of family," she told Lancaster Online. "He is strong. He is courageous. He is stubbornly single-minded."
Susan Boardman
As state officials were deciding how best to proceed in removing the trap, something remarkable happened - the bald eagle beat them to it.
"I got a message from the game commission late last night," Lippy wrote on Facebook on Thursday. "It said that watchers on the ground have confirmed that the eagle with the trap on its talon has managed to remove the trap."
Lippy said that the eagle will continue to be monitored in case any lingering injuries require that he be captured for treatment. But with this latest development, there's now hope he can recover on his own and remain with his mate without disruption.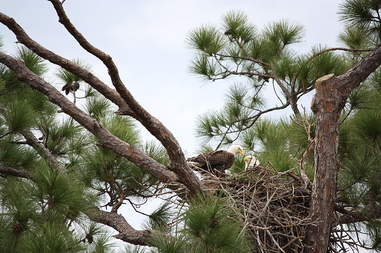 Wikipedia
If all goes well, this eagle will be among the lucky ones to have survived a situation like this.
Leghold traps, in use on both public and private land, are responsible for an untold number of animal deaths each year. Though often intended to target certain animals, all manner of nontarget creatures can easily fall victim to them as well - including pets and protected species.
It's not surprising, then, that these devices have been outlawed in more 80 countries worldwide, including the European Union. Yet in most places across America they're used with few regulations.
Perhaps now, as the public sees America's national animal so cruelly ensnared, that may finally change.