A team of wildlife rescuers failed to save a bald eagle who succumbed to what one licensed rehabilitation specialist called a "horrible excruciating death."
Two men found the eagle shivering in a river in Waverly, Iowa. They brought the eagle to Avenue of the Saints Animal Hospital, where the veterinarians began to treat him for lead poisoning after tests showed lethal amounts in his system, according to KWWL (Waverly). It is believed the lead came from bullet fragments or fish tackle.
They also named him River.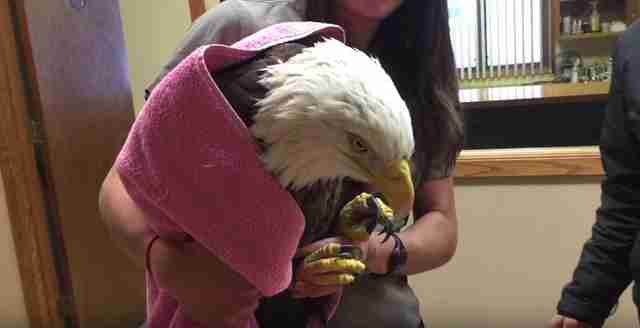 Rescuers assisted him through the lead-induced seizures and, for a while, they expected him to heal. Unfortunately, the lead had already done too much damage and, on Wednesday night, River lost his life.
But, River is not alone. Lead poisoning is a common hazard to birds of prey.
Hunters may choose to purchase lead bullets, because they're cheaper and, in some cases, safer than other materials. But, occasionally, these bullets end up killing more than just the targeted animal.
"Animals like eagles and other birds or prey at the top of the food chain ... eat animals that have lead," the rehabilitation specialist's son told KWWL. "It accumulates in their tissues and can poison them, it's a very powerful neurotoxin."