Don't you just hate when you're looking forward to some quality relaxation time and you find that a cat has totally stolen your bed? Well Pixel the French bulldog certainly does. A stony-faced Calico cat is lounging in Pixel's special nap spot and he is not ABOUT to let such an injustice stand.
But the cat doesn't budge, despite Pixel's valiant attempts to usurp the throne. He's like, "It's pretty adorable how you think you can scare me away, Tiny Dog."
The cat gets so bored with Pixel's efforts that he actually lays down to enjoy the ride.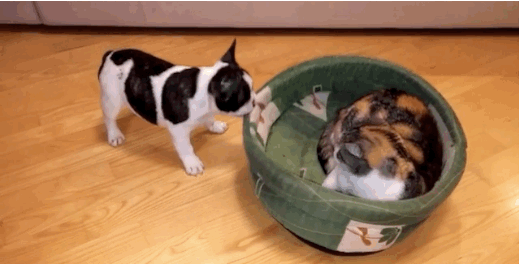 Finally, Pixel has to just stop and raise a questionable paw: WHY, CAT?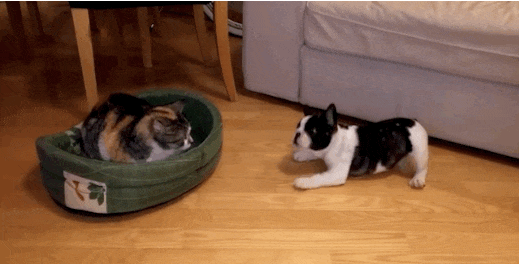 Even Pixel's pudgy prance-dance does nothing to coax the cat from his spot of comfort. Curses! Foiled again.
... later on, though, Pixel makes sure to reclaim his bed with all of his favorite toys, so that pesky cat will think twice before stealing someone else's spot again.
And who knows? Maybe the two will get used to sharing ...
... orrr maybe the cat will just continue to ignore Pixel.