Mall Santa Fired For Turning Away Girl With A Pit Bull Service Dog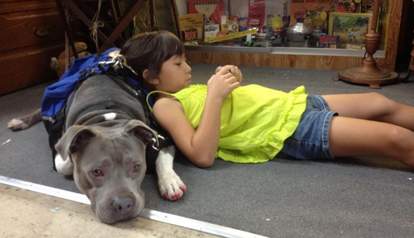 <p><a class="checked-link" href="https://www.facebook.com/PupcakePitBullServiceDog46_c7ed087f8110eec4dbcb63d93f51fc8c">Facebook/Pup-Cake the Service Dog</a></p>
A grinch masquerading as Santa Claus has been given the boot from his job at a mall in Southern California for allegedly refusing to be photographed with an autistic girl simply because she was with her service dog.
The Orange County Register reports that 7-year-old Abcde Santos and her specially trained pit bull, Pup-Cake, had patiently waited in line for 30 minutes to see Santa at The Shops in Mission Viejo shopping center, only to be refused when it was finally their turn to be photographed with him. In a Facebook post, the girl's family says the supposed Santa told them that it was because "those dogs eat people."
Abcde's mother offered to walk away with the dog, but the Santa still refused. After being informed that Pup-Cake was a service dog, and that discriminating against Abcde because of her pet would be unlawful, the Santa then claimed to be allergic to dogs, the family says.
(Facebook/Pup-Cake the Service Dog)
In a statement posted to The Shops' Facebook page shortly after the incident, the mall announced that the bad Santa in question would be replaced:
"We do not condone the behavior displayed by Santa and have worked with our partners at Noerr, the company that hires our Santas, to replace this Santa with one that is more compassionate to our guests' needs."
Noerr has since apologized and invited Abcde, along with Pup-Cake, to return to the mall for a private visit with the new Santa Claus. It's unclear if they will accept the offer; the Santos Family is "declining all interviews at this time." A spokesperson for the family was not immediately available for comment.
In a phone call with The Dodo, a representative at Noerr declined to dispute the allegations made against the Santa, issuing the following statement:
"The entire team at The Noerr Programs sincerely apologizes for any distress caused by this situation, and truly regrets the incident."
It is entirely possible that the Santa does have an allergy that would make him averse to getting near the dog, but the family's account alleges that another factor was at play.
Discrimination against pit bulls is all too prevalent, especially given the stereotype that they are an aggressive breed. Some jurisdictions in the United States have enacted bans and other restrictions on keeping them as pets based on these unfavorable assumptions, which also make them one of the least likely types of dogs to get adopted from animal shelters. But despite having a troubled reputation, the truth about pit bulls is that many of the stereotypes are unwarranted.