Baby Whale Gets As Close To People As She Can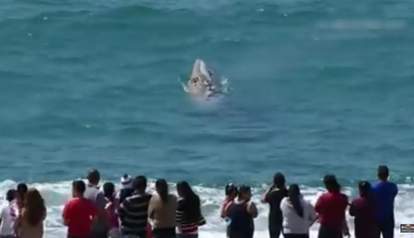 <p><a href="https://www.youtube.com/watch?v=EkLuhxTQfBk" target="_blank">YOUTUBE/YOUTUBE OVERWATCH</a></p>
Visitors at the Redondo Beach Pier in California got a whale of a show on March 30. Literally.
It was like spotting a celebrity - but so much better.
The extra-special sighting? A young Pacific gray whale who was close to the shoreline and frolicking in the ocean having a great time.
Definitely not something beachgoers see every day, the whale had everyone mesmerized as he played, splashed and fed along the ocean floor. It was difficult to tell who was having more fun: the onlookers or the whale.
According to the Daily Breeze, the young whale stopped in the area for a couple days on his way back up to Alaska.
While they feed up north, they then migrate south where they mate and give birth in Baja, California.
This particular whale may very well be on his first migration without his mother, Alisa Schulman-Janiger, director of the Gray Whale Census and Behavior Project at the American Cetacean Society in Los Angeles, told The Daily Breeze.
Catch the whale in action: