Baby sloths need lots of special care, so little Vish the two-toed sloth likely wouldn't have lasted long in the home in Peru where he was being kept illegally as a pet. Luckily, a neighbor noticed him and alerted authorities, who quickly removed the baby sloth and brought him to safety.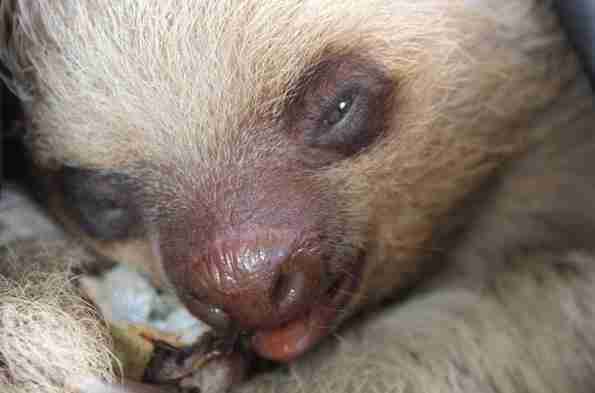 Vish was taken to Neotropical Primate Conservation (NPC), a non-profit rescue and conservation organization based in Peru. Noga Shanee, a primate conservationist and one of the founders of NPC, told OneGreenPlanet that when Vish first arrived, she was worried he wouldn't recover.
"There was a frightening period when Vish just seemed to give up," she said, "He stopped eating and we thought he wasn't going to make it. But we persevered and Vish was determined. After this small pause in his rehabilitation, he recovered his appetite and then there was no stopping him!"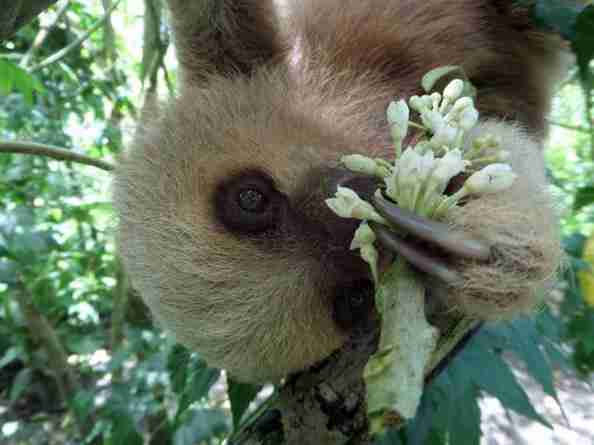 Vish spent two weeks recovering at NPC, until rescuers decided he was ready to start living in the wild again. He was released into a protected area, where he'll stay safe from poachers.
"We decided to release him at this young age as he was taken from the wild relatively late and was much happier out in the trees than anywhere else," NPC wrote in an update on its Facebook page. "As soon as Vish was put in the trees he quickly climbed up while singing a little happy sloth song and started eating in the trees. We wish him a lot of luck in his new home!"
Vish is yet another victim of the illegal exotic animal trade, which affects animals worldwide. As with other animals who are kept as pets, Vish's mother may have been killed in order to separate him in infancy.
There are still thousands of exotic animals being bought and sold and shipped around the world, but Vish's story is a small victory against a cruel and widespread practice. Thanks to the dedicated work of the conservationists at NPC, he'll be singing his "little happy sloth song" in the trees for years to come.
h/t to OneGreenPlanet