Baby Squirrel Runs Out Of Burning House Straight Into Firefighter's Arms
<p> David Whisenant/WBTV<span></span> </p>
Firefighters in North Carolina got a furry surprise last week when they showed up to rescue a family from a raging house fire ... and wound up saving the life of the fuzzy little intruder.
When the alarm sounded at a firehouse in Salisbury, North Carolina, last Friday, the firefighters were in the middle of observing a 9/11 memorial service. But when the sirens went off, they dropped everything and rushed to the nearby home.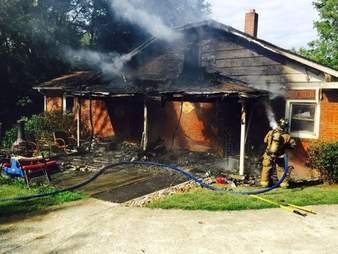 David Whisenant/WBTV
As crews battled the blaze, a tiny baby squirrel came rushing down from the attic and collapsed right in front of one of the firefighters.
"... He crawled out of the attic down to the porch and he couldn't make it any further, he got smoke in the attic," Salisbury firefighter Chris Haynes told local outlet WBTV.
The firefighter scooped up the little squirrel and gave him oxygen, which helped revive him.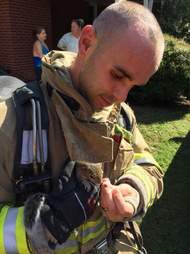 David Whisenant/WBTV
The human residents of the home all made it out unharmed - sadly, two of the family's pet cats died in the fire.
The baby squirrel, however, made a full recovery. David Whisenant, a reporter who spoke to the firefighters, told The Dodo that the squirrel was later released into the woods: "After the squirrel had received oxygen and seemed to be feeling better, [the firefighter] just put it down and it scampered away."
These aren't the only firefighters to go above and beyond for a little critter - back in July, a Utah firefighter carried a hurt lost dog all the way down a mountain to reunite her with her owners.