The baby raccoon tumbled from an oak tree, landing in a mulch bed. She was so young, her eyes and ears hadn't opened yet, and she didn't have the strength to move around. But the baby knew how to scream. When Bethany Swindell found her, she thought the raccoon looked like a screaming baked potato.
Swindell spotted the mother raccoon up in the oak tree, gazing down at her baby. Imagining that the mother would fetch her, Swindell left the baby alone, going out to dinner with her husband and a group of their friends in Russellville, Arkansas. When Swindell and her husband returned five hours later, they were shocked to find the baby raccoon still in the flowerbed. The mother was nowhere to be seen.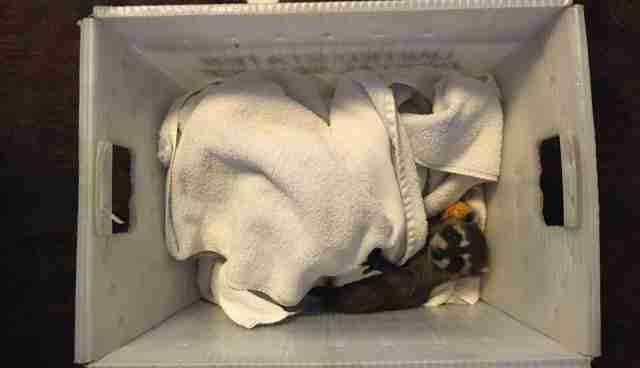 Swindell scooped the raccoon up, and took her inside the house to warm her up. In the morning, she called several veterinarians and wildlife rehabilitation centers, asking if they'd take the baby raccoon. They all said no - they didn't have experience with raccoons. Swindell, however, had grown up with parents who rehabilitated wildlife, including raccoons, so she decided to raise her herself. She named the raccoon June, since that was the month she was found, although her name quickly morphed to Ju-Ju, Juners and Junie Coonie.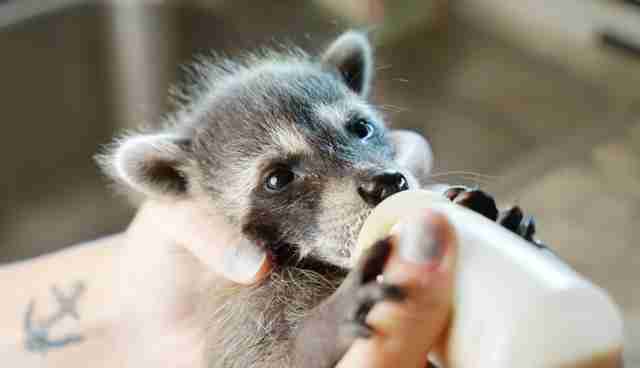 Swindell and her husband were delighted to become June's parents, but raising her took a lot of work. "She was helpless when we found her since her eyes were still closed," Swindell tells The Dodo. "We had to do everything her real mom would do - feed her, stimulate her to go to the bathroom and keep her warm."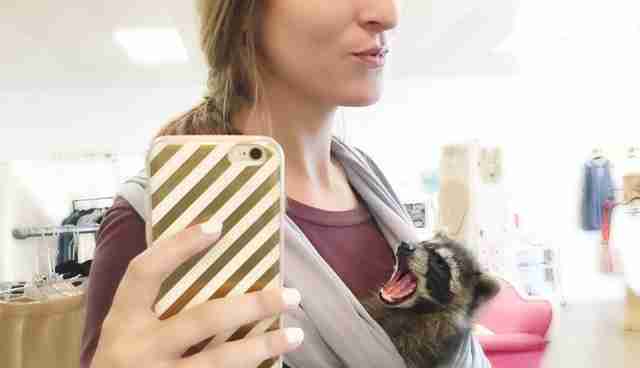 Since June had fallen from a tree, Swindell also worried June might have internal injuries or a concussion. She stayed awake with her for the first few nights, but June showed no sign of trauma and quickly adjusted to bottle-feeding. Still, Swindell kept a close eye on her. "I'm very fortunate to be the owner of a small business so June was able to have 24/7 care, and she still comes to work with me," says Swindell. "Plus, my parents love having a baby raccoon as a grandchild and have babysat sometimes."
After a week, June opened her eyes and ears, and a few days after that, she started crawling around. Now, at 9 weeks old, June is a bundle of energy who loves playing in the bathroom vanity, going for car rides and swimming in the pool. She's also best friends with Swindell's mother's Pekingese dog, Reese. "These two were instant best friends and beg to play together," says Swindell. "They run and romp through the house and yard, chasing each other and rolling around. All of our friends that come to our house also have dogs, and June interacts and plays with them as well, but it isn't the same type of relationship as she has with Reese."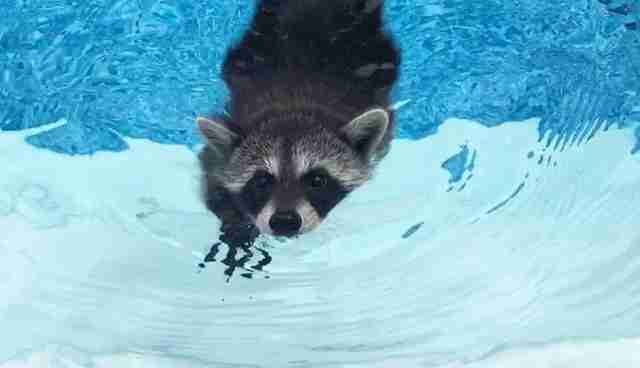 Swindell and her husband had planned to release June back into the wild, but as she became more accustomed to domestic life, they worried about her chances of surviving. "Since she is being raised alone and not with other raccoons, she doesn't have all the skills needed to live in the wild," Swindell explains. "June has a house in my backyard, but she prefers to use the dog door and stay inside. She just wants to be wherever her people are and cries if she's left alone, even when she is in the house. She has separation anxiety, so being all alone outside in the wild isn't what June wants. We take her to my grandparent's farm and let her play in the creek and climb trees, which she loves to do as long as we are there with her!"
June's situation is unique since she was clearly abandoned by her mother, and Swindell has wildlife rehabilitation experience. However, it's often illegal to keep wildlife as pets. Not sure what to do if you find a wild animal? Check out this page for more information.