Cat Finds Baby Rabbit On The Sofa And Decides To Keep Her
Life had scarcely begun when this little rabbit became an orphan.
Just a week old and his mother was dead - which would typically spell a tragically fleeting foray into this world.
But this little rabbit was taken in by a family in Rotherham, U.K., where he was named Bubbles.
And then his new mother, a cat named Snaggle Puss, found him.
Specifically, on the couch.
As it turned out, there was plenty of room in the litter.
Just another mouth to feed.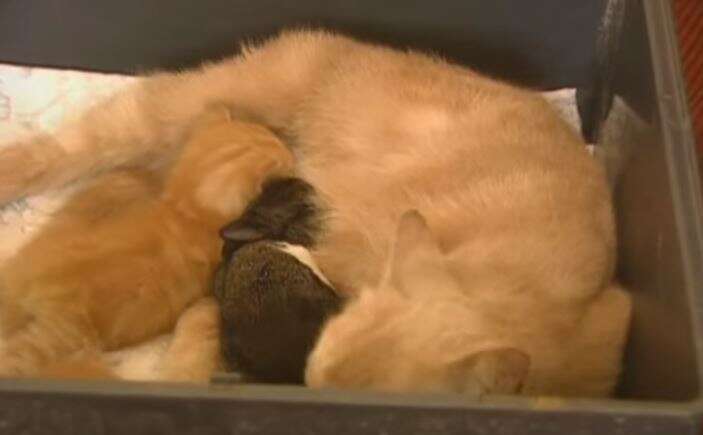 Just another tiny heart to fill with a mother's love.
Of course, they're all grown up now. The video telling their story was posted to YouTube back in 2008. The babies have doubtlessly moved on to bigger, brighter adventures.
But we'll always remember a baby rabbit named Bubbles who beat the odds by finding himself with good people. And a compassionate cat named Snaggle Puss who gave him the best of starts in life.
While Bubbles looks like a domestic rabbit, it's now the time of year when people find wild baby rabbits in their yards. Just remember, mother rabbits typically leave their babies for hours at a time. Here's how to tell if a baby rabbit needs your help - and how to ensure he gets the best chance at growing up to be a wise old rabbit.
At least, outside of having a Snaggle Puss around.
Watch the video below: