Babies Meet For The First Time, Become Best Friends Instantly
This is bound to become one of the greatest bromances of all time.
International Animal Rescue (IAR) recently posted a video capturing the magical moment when Gito and Asoka, two infant orangutans, met face to face for the very first time in west Borneo.
One could call this meeting a miracle, given that just a few months ago, Gito almost died. He was found in a cardboard box in what his rescuers described as "one of the most shocking cases of animal cruelty and neglect." Left in the sun to rot, Gito took on a haunting, mummified appearance.
International Animal Rescue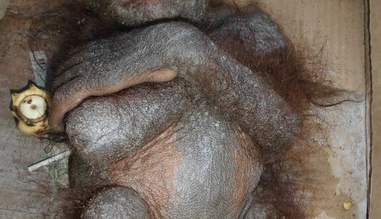 International Animal Rescue
Gito's transformation, from barely hanging on to alive and kicking, is incredible, as his chance for survival seemed unlikely months ago. As for Asoka, he was found alone and motherless in the rainforests of west Borneo and could have died had he not received proper care just in time. Despite the hardships these two have faced, they now both have a chance to not only grow up healthy, but to find lifelong companionship and support in one another.
This is the story of how these two best friends found their spark.
One day, this little guy was just monkeying around with NO idea about what was in store for him.
"Another baby orangutan like myself? This is a most curious situation my human caretaker has bestowed upon me. Hmm."
"Wow! I could stare into your eyes all day and never get bored. Seriously. I must know more about you. I also hope this isn't awkward."
"It's only been a few seconds, sure, but I'm pretty sure this is the beginning of one beautiful friendship. Why won't this human let go of you already? Let us play together and screech the sweet song of our people."
Boom. Totally nailed the whole BFF thing without breaking a sweat.
You can watch the rest of this epic story of friendship unfold below: