Orangutan Kidnapped From Mom Finally Has His Life Back
An orangutan who was stolen as a baby from the wild forests of Indonesia is finally returning home.
And the man who saved his life has been waiting four years for this moment.
Paul Hilton
Back in 2012, wildlife photographer Paul Hilton was part of the Wildlife Asia team investigating illegal palm oil activities when he found Chocolate chained up, degraded and terrified of people.
Paul Hilton
Hilton still remembers when he first met the baby orangutan. "He wore a small leather collar around his neck, showing he was owned, and patches of his hair were missing from sleeping on hard, cold surfaces," Hilton told The Dodo. "The timid animal shied away from all of us, and it was clear to me, that this was a result of being teased and taunted by his 'masters.'"
Paul Hilton
Chocolate's "masters" were men who had stolen him from his mom to sell him as a pet. "You might think that those who make their living from trading in endangered species would be secretive about their business practices, but not these men, who spoke openly to us, going into detail about how they caught orangutans," Hilton said.
Paul Hilton
The men spot the mothers with babies, and then cut down the trees around them, leaving them with nowhere to run, the men explained to Hilton. Then the men climb the tree and use a bamboo pole to beat the mother until she falls to the ground. When she is unconscious, they steal the baby for the illegal pet trade.
Paul Hilton
Hilton and his team bought Chocolate's freedom. But Chocolate needed a lot of help recovering from his ordeal to safely reenter the wild, so with the assistance of the Sumatran Orangutan Conservation Program (SOCP), Chocolate was taken to a rehabilitation center. Because of the abuse he endured, he had a long road ahead of him.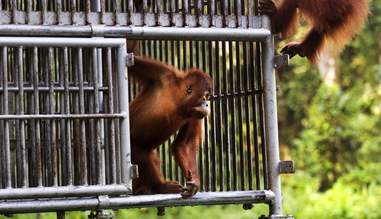 Paul Hilton
Four years later, Chocolate was ready for his freedom.
In February 2016, Hilton returned to Indonesia for Chocolate's release back into the wild. Hilton described seeing Chocolate again: "I couldn't believe how confident he had become."
The people who helped save Chocolate's life watched as he and his friend, another rehabilitated orangutan, were released from their cages. They swung through the sunny treetops.
Paul Hilton
"I'm not sure people really understand what it's like to rescue, rehabilitate, and finally release an orangutan," Ian Singleton, of the SOCP, said. "I'm going to miss this little guy."
Hilton added: "Too often, we as humans write off environmental issues that seem unfixable. But, watching the dawn scene play out as Chocolate swings through the trees, it's hard not to feel that there is still hope."
Paul Hilton