Baby Orangutan Won't Stop Hugging Starving Mom
This mother gave her all to protect her baby.
The roughly 20-year-old orangutan, who was later named Mama Nam, was a victim of the recent spate of fires sweeping through the jungles of Borneo. When Mama Nam's forest burned down, she lost her home as well as her source of food. But she wasn't about to give up on the little orange bundle who was clinging to her side.
International Animal Rescue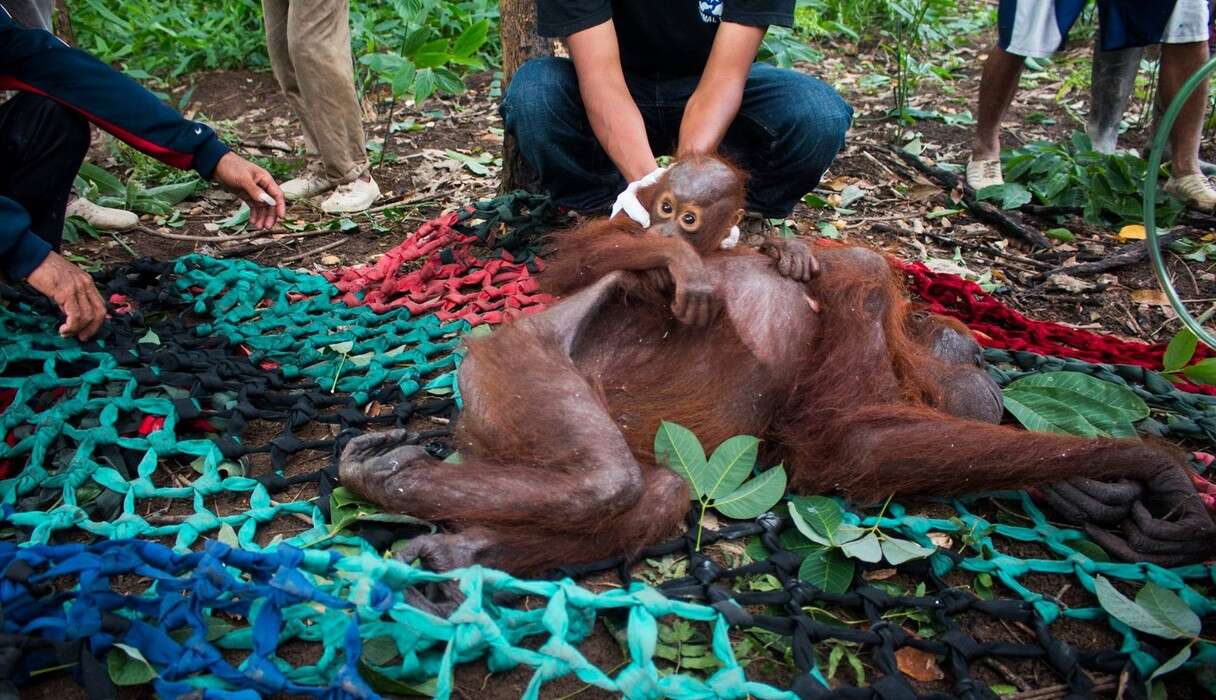 In order to protect her baby, Mama Nam resorted to stealing food from a nearby village - a dangerous task as farmers will sometimes kill and torture orangutans in return for stealing their crops. Fortunately, International Animal Rescue, a group that rescues and rehabilitates wild orangutans, heard of her plight late last week and rushed to the scene.
When the IAR team arrived, they found Mama Nam and her baby camped out in a nearby tree. Though Mama Nam was weak with hunger, she was determined to protect her child, and it took three anesthetic darts to knock her unconscious so the rescue team could step in.
International Animal Rescue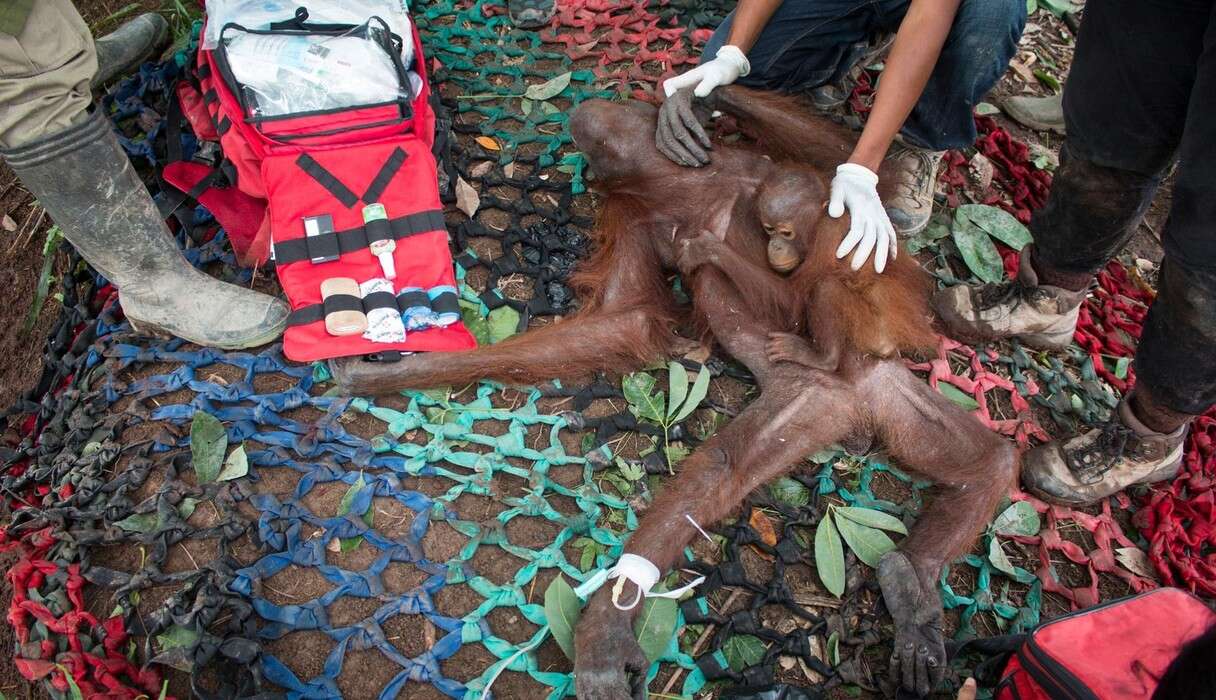 "It is amazing that, despite the fact that she was so skinny and weak, this mother was still determined to protect her baby," Ayu Budi Handayani, a vet with IAR, said in a statement. "She had already undergone the trauma of losing all sources of food and shelter when the forest was destroyed and then she had to contend with being hit by an anaesthetic dart and caught in a net. The poor thing couldn't know that we were there to help not harm her."
And up close, it was clear just how hard this mother had struggled to provide for her little child, whom rescuers estimated at 2 to 3 years old. Mama Nam was severely emaciated and weak, and so malnourished that she had stopped producing milk for her baby. Rescuers said the pair wouldn't have survived another week on their own.
International Animal Rescue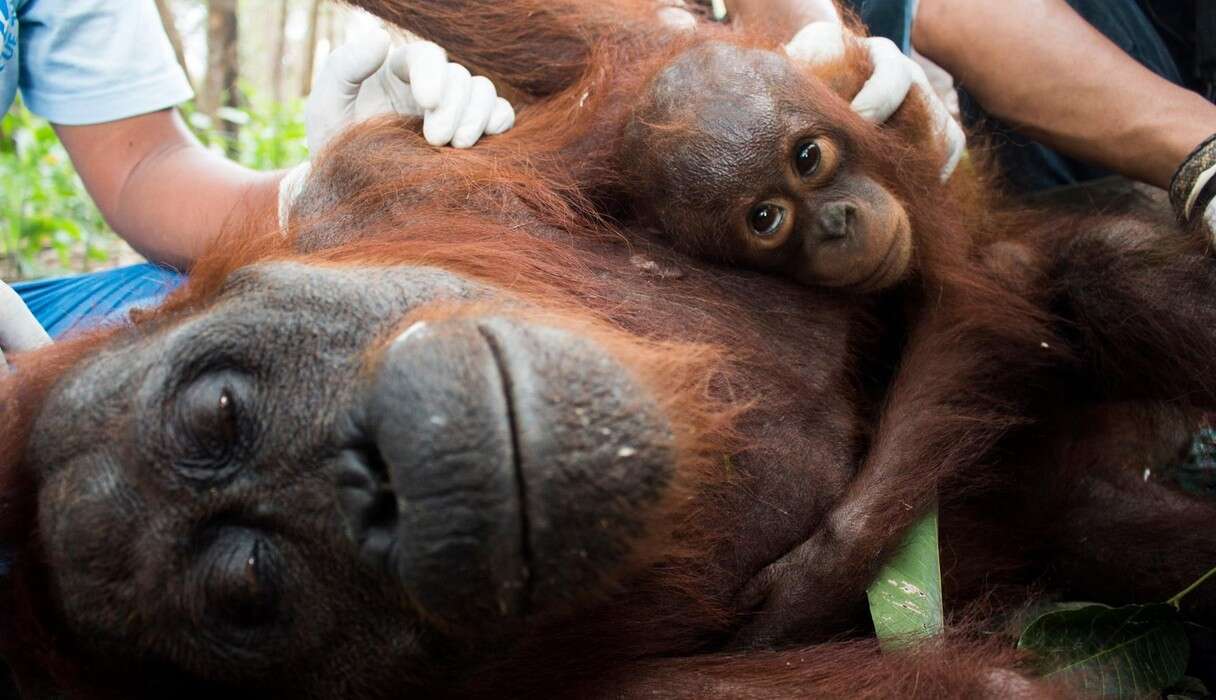 But despite her struggles, photos show just how much her little baby needs her. Even as Mama Nam lies unconscious, her child won't let go of her emaciated body, hugging her mother tight as the medical team gently works around her.
International Animal Rescue
Unfortunately, Mama Nam isn't alone. Borneo's orangutan habitats have been devastated by increasing palm oil plantations, which not only raze the forest for planting but also leave the remaining jungle open to wildfires. IAR, which also runs an orphanage for orphaned orangutans, said it's seen a noticeable uptick in orangutan incidents in recent years.
"This poor mother and her baby have been without food for many months because their habitat was destroyed by fire," Karmele Llano Sanchez, program director for IAR, said in a statement. "It is heartbreaking to see wild orangutans in this extreme state of starvation ... the horror of rescuing animals from the burning forest and seeing their habitats wiped out before our very eyes is almost impossible to bear."
But even in this potentially sad case, the ending will likely be a happy one. Mama Nam and her baby were relocated to IAR's orphanage, where they quickly began to regain their strength. Mama Nam has reportedly begun to produce milk again, and if all goes well they'll soon be returned to the wild.
International Animal Rescue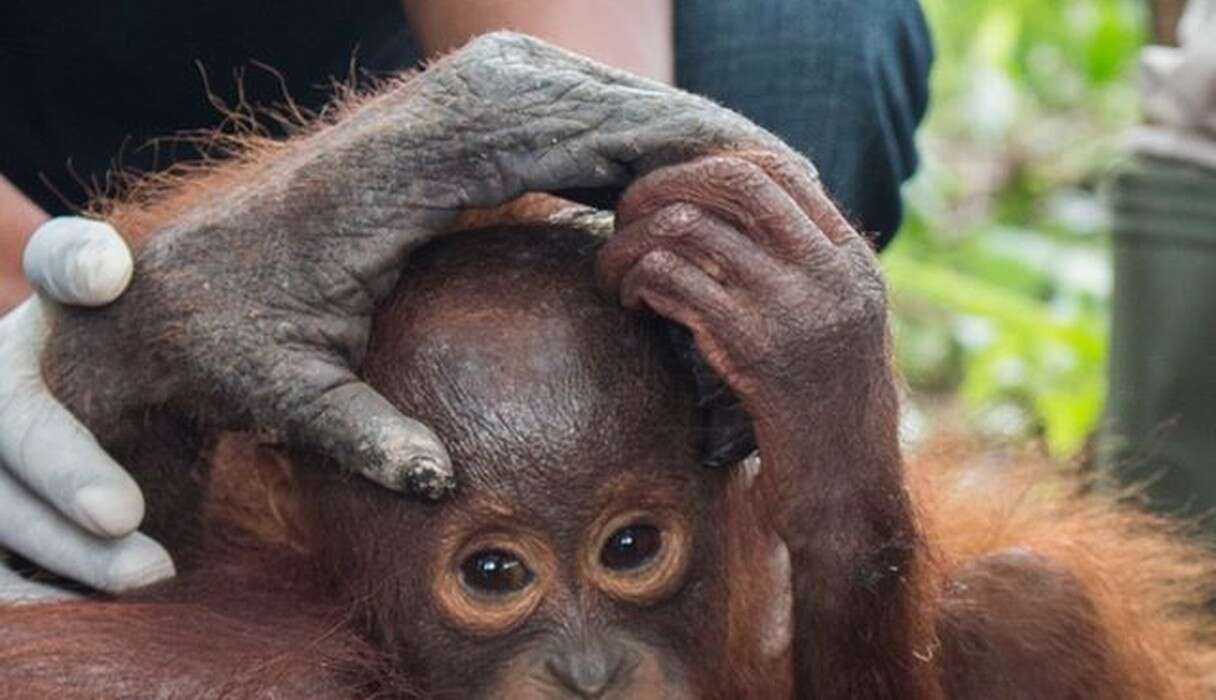 "I hope it won't be long before both mother and baby are fit enough to be released into a protected area of forest where there is a plentiful supply of fruits and other food to sustain them," Alan Knight, CEO of IAR, said in a statement.
To help care for Mama Nam and her baby, and the manyotherorangutans IAR rescues each year, you can make a donation below.