Bunnies Forced Into Painful Lab Tests Finally Learn What Love Feels Like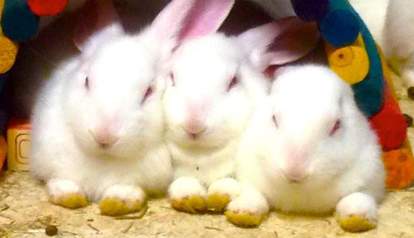 <p> New Life Animal Sanctuary </p>
After a laboratory closed, 32 lives hung in the balance, and animal lovers stepped in to ensure the future was bright.
Thanks to New Life Animal Sanctuary, in Lake Elsinore, California, rabbit mothers and their babies have new lives of love and kindness to look forward to.
"These rabbits were being bred by the lab to produce more sentient beings to be tested on," Gina Lynn, founder of The New Life Animal Sanctuary, told The Dodo.
"These innocent little babies would have been ripped from their mothers - who love their children just as human mothers do - to endure barbaric and outdated experiments."
Lab rabbits are commonly subjected to painful trials, such as the Draize test. In this test, toxic chemicals and other substances are dripped into their eyes or onto their skin. The animals are immobilized for long periods of time, as people observe the results.
Even common cosmetics and household products are tested this way. (For a list of companies that don't test on animals, click here.) We're so glad these rabbits were spared this treatment and are finally getting the love they deserve.