Baby Kangaroo Treated Like A 'Toy' Is Finally Safe
He loves exploring his new foster home.
When Jax was just a baby, a group of hunters shot and killed his mom, and then stole him as their prize.
The hunters treated Jax almost like a toy, showing him off and depriving him of food for nearly two days. Joslyn Van Nieuwkerk, a volunteer with a local rehabilitation center, found out about poor little Jax through Facebook and knew she had to step in to help.
Joslyn Van Nieuwkerk
Van Nieuwkerk went to the police and presented them with photo evidence that Jax wasn't being properly cared for. She then went with the police to the home of the hunters, and was able to get them to hand off Jax into her care.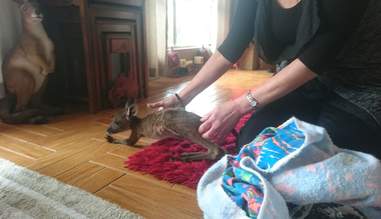 Joslyn Van Nieuwkerk
"When we got him, he had not been fed for 48 hours and was very cold and in terrible condition, weighing just 1.2 kilograms (2.6 pounds)," Van Nieuwkerk told The Dodo. "He was so dehydrated that his skin was peeling."
Joslyn Van Nieuwkerk
Jax was so tiny and weak when he arrived at his new foster home, clearly terrified after losing his mom and being held captive. The baby kangaroo soon began to come out of his shell though, and loved exploring his new house and hanging out with his rescuers.
"He has been nursed back to health with lots of love and care," Van Nieuwkerk said. "He is getting stronger every day! He is doing a lot better now but he has a very long way to go."
Joslyn Van Nieuwkerk
Jax is currently staying at a local rehabilitation center to get the medical treatment he needs, and will come back to Van Nieuwkerk when he's a little healthier. Once he's old enough, Jax will be released back into the wild where he belongs. Until then, he's getting the attention he needs to get better, and will hopefully grow up to be a healthy, happy kangaroo.