A baby horse named Gizmo who was found abandoned on a roadside in February is gradually getting back on his hooves - all thanks to the tireless work of animal lovers who have refused to give up on him.
By the time the RSPCA was alerted to the collapsed foal near Essex, England, he was nearing his final breath. The emaciated animal was so weak and dehydrated, he could not even lift his head, let alone stand. It was clear to rescuers that he'd been "left for dead."
It was so difficult for Gizmo to even move that he had to be carried to safety on a blanket. He was then placed into the caring hands of the staff at the Catley Cross Veterinary Clinic, who immediately set about rehydrating his frail body with an IV drip.
Even under expert care, it was uncertain whether the baby horse would pull through - so the staff did its best to make him comfortable.
As word spread about Gizmo's sad story, donations began pouring in from all over, both monetary and in the form of blankets to keep him from feeling cold in the chill of late winter. In a matter of a week, nearly $30,000 was raised toward his care.
Gizmo, meanwhile, was also gifted a stuffed animal companion with whom to share his recovery room - a simple gesture of comfort after such a heartbreaking ordeal.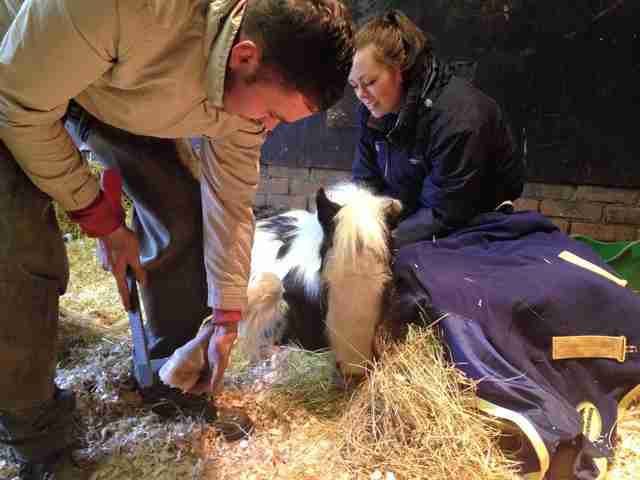 Although his first few days were a rollercoaster of progress and setbacks, Gizmo proved to be a fighter.
"He's not out of the woods yet, but Gizmo really is picking up more and more each day," said vet Carolyn Wyse in a statement last week. "He holds his own head up now, and is using his legs better, and was even getting very feisty during his lifting sessions yesterday which is a great sign."
In time, the determined little horse continued to make the advances necessary to truly begin to heal: He tried to stand up.
"Although we are still waiting for those real steps to come, he has been trying to get up most of the day and from the picture taken here tonight you can really see him locking his front limbs and trying for us!" the clinic reported on Facebook.
On Tuesday, after hours and hours of dedicated care, Gizmo did something that once seemed impossible.
"2 weeks on he stood for the first time tonight, unsupported, for a short period of time but it is a start and we are unbelievably happy!" the clinic reported.
"Thank you to all who have believed in us and Gizmo and have contributed towards his care."