Goat Born Without Back Legs Finds The Perfect Mom To Raise Him
"He loves to snuggle ... If I walk out of the room, he starts crying."
When Pocket the goat was born without legs, his owners didn't know what to do. They wrote a post in a Facebook group for vets, asking for help. "Is there any hope for [him], or should we let [him] go?" they asked.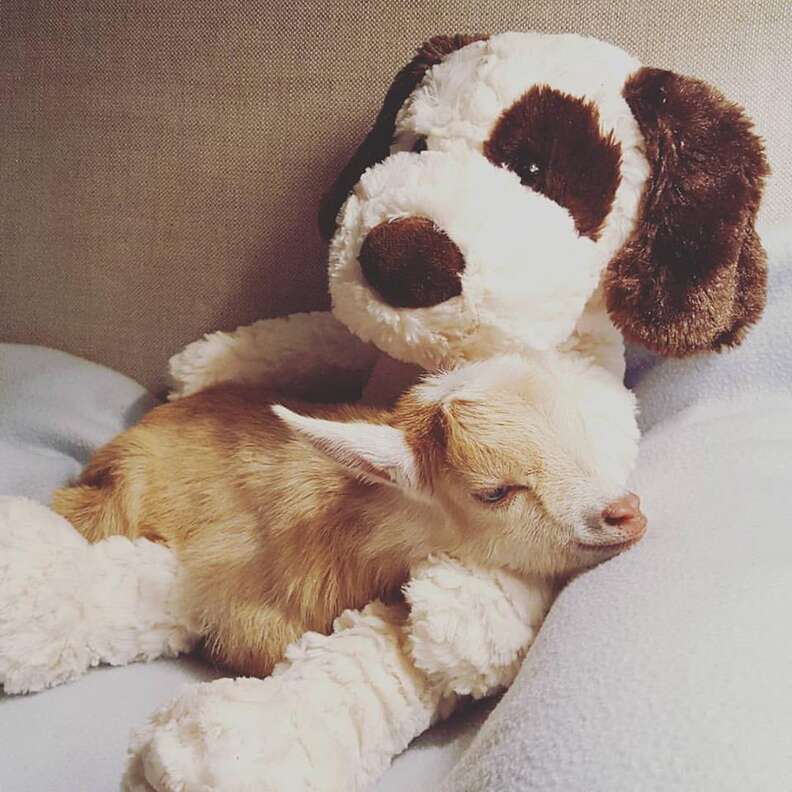 Someone forwarded the post to Leanne Lauricella, founder of Goats of Anarchy, a New Jersey rescue group that helps goats with special needs. Lauricella got in touch with the owners. "They agreed to give him to me," Lauricella told The Dodo. "So I drove to Virginia to pick him up."
Pocket was only 5 days old. He weighed about 2 pounds, and he could quite literally fit inside your pocket, which is how he earned his name.
While Pocket was healthy in most respects, he did have some serious issues with his legs. "He's really deformed," Lauricella said. "His [back] legs are basically cut off from the knee down, but he has - on each [back] foot - a teeny, tiny, miniature hoof. It's really weird."
Pocket's front legs have some issues, too. While they're normal-sized, they're quite bent, and Lauricella has needed to splint them. "They straightened out pretty quickly because he's so young," she said.
Lauricella will eventually fit Pocket's back legs with prosthetics, but for the moment, he's too young and too small for them. In the meantime, Lauricella supports Pocket's back legs with foam pipe insulators, which she tapes on with medical tape. "He has to have something," she said. "He's a baby, so he wants to be running around and playing. So he has to have everything covered and padded, just to protect those stumps, basically."
Pocket might want to run around and play, but he's really just learning to walk. "He kind of balances on his back legs," Lauricella "He hasn't learned to move them back and forth yet, but he's just starting to get that motion. He walks like a crab."
Since Pocket requires special care, he's currently living inside Lauricella's house. When he's not walking like a crab across her hardwood floors, Pocket loves chewing on things, eating bits of hay between his bottle feeds, and cuddling with Lauricella. "He loves to snuggle," she said. "He sleeps curled up by my neck. I even made a little scarf thing, and I carry him around like in a BabyBjorn. I can't leave [him]. If I walk out of the room, he starts crying."
Pocket also adores Polly, another baby goat currently living in Lauricella's house. "[Polly's] blind, and she's got some pretty major neurological issues, and a lot of nervousness," Lauricella said. "As soon as I put Polly and Pocket together, she instantly calmed down. [Pocket] just took to her - they're in love. When they move outside in the spring, I'm hoping that Pocket will be Polly's seeing-eye goat."
Pocket has only been in Lauricella's care for a little over a week, and he's already doubled in weight. When he's about 3 months old, he'll get his first pair of prosthetics and join the other goats outside. "Most rescues don't take in these [special needs] babies because they're so expensive," Lauricella said. "Pocket will probably be a $10,000 goat. He'll need several pairs of prosthetics and they're $1,500 apiece.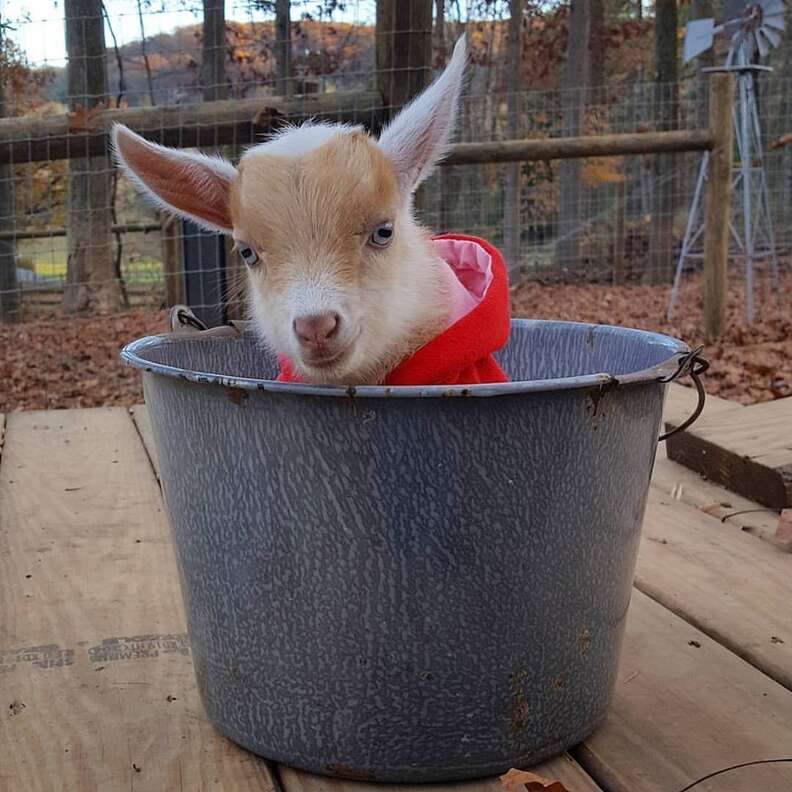 But to Lauricella, Pocket's worth every penny.