Watching Baby Elephants Guzzle Bottles Will Make You Feel Better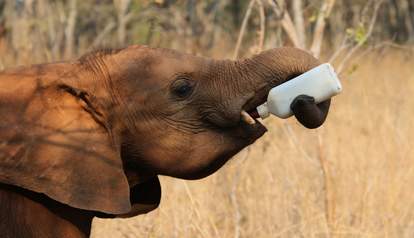 <p> © <a href="http://www.ifaw.org/united-states/about-us/non-staff/iain-webb" target="_blank">IFAW / I. Webb</a> </p>
Who can resist babies? Doesn't matter the species, chances are most of us will smile when we see innocent, playful, and clumsy newborns doing their thing. And these days, it's like therapy.
We get bombarded with tragic stories every day, so why not something uplifting for a change?
These orphaned elephant calves have been though the worst, but with your help, we've been able to work with staff and keepers at Game Rangers International in Zambia to rescue, rehabilitate, and release them back to the wild.
First, they arrive at the Lilayi Elephant Nursery where they are fed 2-liter bottles of specially enriched baby formula every three hours.
It takes a lot to become the world's largest land animal and if you ever wondered what it would be like to feed these hungry elephants, check out the video.