A baby elephant has been freed from a dire predicament after tumbling into a hole - all thanks to the efforts of a few helpful humans.
The trapped little calf was spotted in a 6-foot deep water storage pit on the grounds of a nature reserve in China's Yunnan province. Villagers alerted local police, who dispatched a team to help. They believe the elephant had been stuck for nearly a day.
Try as he did, the baby elephant was unable to hoist himself up and over the slick, muddy walls.
"Because it rained yesterday, the ground around the pit was slippery," police officer Tang Zhouxing said, as quoted by The Guardian.
To help the calf out, police used a hoe to lower the edge of the pit enough for him to get a better foothold.
Sure enough, the rescuers' efforts paid off. About an hour and a half after they began, the elephant finally managed to scale up and out of the hole, pausing for a moment to get a better look at the people who had helped him.
Afterwards, he shuffled back into the forest. We hope he reunited with his herd after the harrowing ordeal!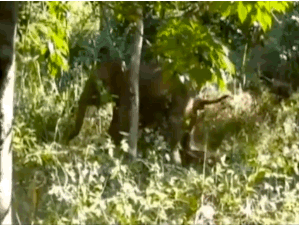 Despite the rampant trade of ivory in parts of China, elephants living in this sprawling jungle sanctuary in the country's southwest are closely guarded with some of the strictest elephant protection laws in the world - including the death penalty for convicted poachers.
"Elephants have it pretty good here because it's safe and there is plenty to eat," local forestry official Chang Zongbo told the New York Times. "Once the elephants cross the border from Laos, where hunting is allowed, they never want to go back."