A couple weeks ago, a woman and her son were wandering around a river bed in Arizona when they spotted something brown and furry. They stepped closer, and discovered a baby donkey lying on the ground.
The woman knew she couldn't leave the donkey there, so she helped the donkey stand up, and convinced her to follow her home. Then the woman carried her up the stairs to her second-story apartment, where she tried to give her some water in her kitchen.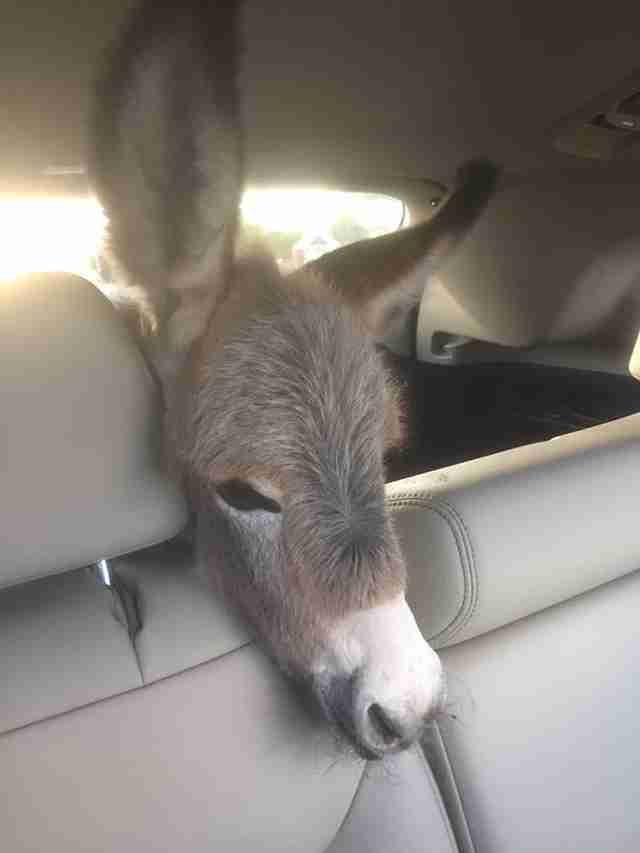 But the woman knew that she was in over her head, so she called a local medical center, which then reached out to the Arizona Equine Rescue Organization (AERO), an organization that helps donkeys and horses.
Soleil Dolce, the vice president of AERO, was extremely concerned.
"I knew that if a baby donkey was allowing this woman to carry her into her kitchen, then we probably had a very sick donkey on our hands," Dolce told The Dodo.
Dolce's intuition was spot on - the donkey, now named Chloe, was dehydrated, malnourished and very, very ill. But the most worrying issue was a large wound on the side of Chloe's neck. It looked as if an adult donkey had stepped on her, which created huge, open wound that had become badly infected.
Annie Brown, a volunteer with AERO, picked up Chloe in her SUV, and rushed her to an emergency vet. There the vet team started to rehydrate her, but Chloe's tiny, 6-day-old body went into shock, and they had to work hard to save her life.
Dolce, Brown and the other AERO volunteers anxiously waited for news.
"We just weren't sure," Dolce said. "But she was actually responding to treatment beautifully."
A few days later, Chloe was well enough to leave the vet and go to the rescue center.
To help Chloe's recovery process, the AERO team had also found just the thing to help Chloe - a lactating female donkey named Jessica, who acted as Chloe's surrogate mom. Chloe started nursing from Jessica immediately.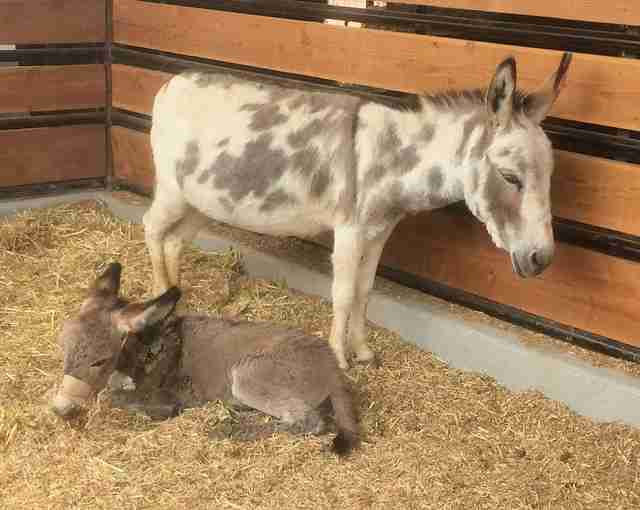 "That made a huge difference to her health," Dolce said.
Even with Jessica's milk, the AERO team supplemented Chloe's diet, giving her nutrients through a feeding tube. With these combined efforts, Chloe got better. So much better that she's acting like a baby donkey should.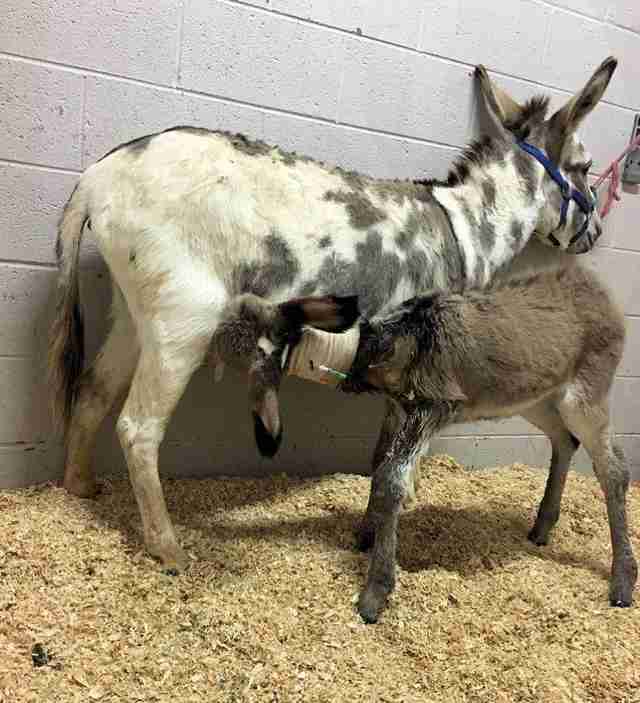 "Yesterday I was feeding her through the feeding tube, and I was almost done, and she just spunked up, kicked and ran off with the tube," Dolce said with a laugh. "When they start getting really spunky and playful, it's a fabulous sign."
Chloe is showing other signs of getting better, too. She's starting to eat hay, and she's exploring the world around her.
"This morning, I had her stall door open, and she actually jumped out and started exploring outside of her stall, which she really hasn't been ready to do, but she's getting so strong and healthy, that she's turning into a very normal baby," Dolce said.
Dolce expects Chloe to make a full recovery, and when she's older and bigger, she'll be put up for adoption so she can find her forever family.
If you're interested in adopting Chloe, get in touch with AERO. Another way to help is by making a donation, which can help pay for Chloe's ongoing care, as well as the rescue of donkeys, horses and other animals.