Baby Deer Plays With A Ball For The First Time, Loses His Sh*t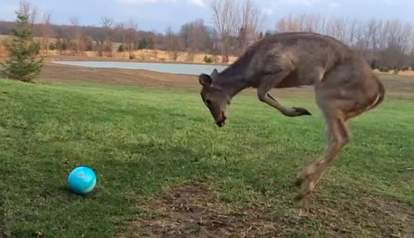 <p> <a href="https://www.youtube.com/watch?v=vp_Dw2yH4vM">YouTube/KyootAnimals</a><span></span> </p>
No matter the species, all babies love to play. But when this little baby deer first sees his human pick up a ball, he has no idea what's coming.
"Oh you want to show me something? What is it?"
And then as soon as she rolls the ball toward him ... he freaks out with joy!
"Ahhh! How is it moving like that?!!? I want it!"
He doesn't exactly know what to do with the ball, but he's having so much fun jumping all around it.
"I LOVE THIS THING!"
He's having a ball ... literally.
Watch the whole adorable video here: